Since the demonstrations began on December 7, more than 60 people have lost their lives and more than 1,300 have been injured.
Eight generals of the Peruvian National Police have been removed from their positions for being linked to the violent repression of protests against the Government of Dina Boluarte.
The measure, which was made public in the bulletin of the official newspaper El Peruano, is signed by the president and the Minister of the Interior, Vicente Romero Fernandez.
In the substituted group is David Villanueva Yana, chief of the police region of Punoand who has been replaced by General Enrique Felipe Monroy.
According to the newspaper La Republica, during Yana's management, 21 civilians lost their lives due to shots from AKM rifles, which is the weapon used by the National Police, in the city of Juliaca, in Puno.
In addition, General Luis Flores Solis, head of the Apurimac Police Front, has been replaced by General Nilton Santos Villalta. The newspaper assures that during his tenure, the agents used long-range weapons to suppress the protests, leaving a balance of seven dead.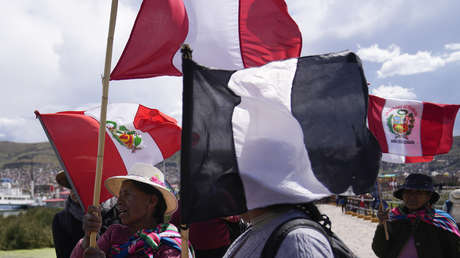 The Public Ministry is investigating both Yana and Solis for their involvement in the death of the protesters.
More than 60 dead
This weekend, coinciding with Boluarte's 100 days in power, thousands of people participated in a March in Lima to demand the resignation of the president, the closure of Congress, early elections and a constitutional reform. Although the mobilization was peaceful, the National Police repressed the protesters.
According to the pollster CPI Reserach, Boluarte has a disapproval level of 76% among citizens, while more than half of Peruvians (51%) believe that Congress carried out a coup against Castillo.
Since last December 7, when Boluarte assumed power after the removal of former President Pedro Castillo, more than 60 people they have lost life and more than 1,300 were injured during anti-government protests.


Source: RT