Hundreds of women marched this Monday to the Police headquarters to demand the release of the governor of Santa Cruz.
A new day of protests took place this Monday in the Bolivian department of Santa Cruz, where supporters of the opposition and local governor, Luis Fernando Camacho, who is in prison accused of terrorism due to his active participation in the 2019 coup, they took to the streets to demand the freedom of the politician.
Santa Cruz, bastion of the opposition to President Luis Arce, faces its sixth day of demonstrations. This Monday, hundreds of women marched in the city to the police headquarters to demand the release of Camacho.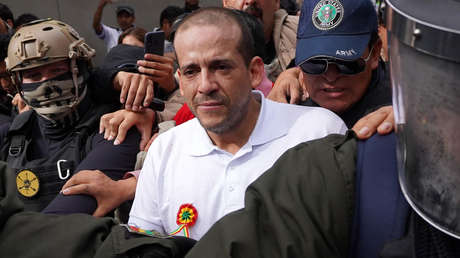 Since the protests broke out after the governor's arrest, there have been hundreds injureddozens of detainees and at least 10 public buildings affected by fires in Santa Cruz, in addition to damaged homes, private businesses and cars.
change of strategy
The main access and exit routes to the department of Santa Cruz remain closed, and this Monday it was decided to reinforce the blockade points on the main highways of the department to demand the release of Camacho. Local authorities and civic groups have also joined the demonstrations.
For his part, the president of the Pro Santa Cruz Committee, Romulo Calvo, announced a change of strategy in the protests, and has asked the local population protect state institutions in the region "so that a peso from Crucenos does not leave for centralism."
The Bolivian Prosecutor's Office accused Luis Fernando Camacho for the alleged crime of terrorism author for the 'coup d'etat I' case, for which he requested a preventive detention measure of six months in the maximum security prison from Chonchocoro.
suspended hearing
The governor of Santa Cruz and his supporters describe the apprehension as a "kidnapping" perpetrated by the Police, in a "brutal" way. These complaints have been rejected by the Prosecutor's Office, recalling that the arrest warrant was issued in October. While from the Executive denied the alleged injuries suffered by the politician during his detention, and they assure that he was arrested "respecting constitutional rights and human rights".
Despite what the Bolivian Government and Justice maintains, Camacho's defense alleges that the detention was irregular and introduced a freedom action in favor of the governor. The hearing to deal with that appeal was scheduled for this Monday in a Santa Cruz court, but it was suspended after the judge will decline its competition to take the case and transfer it to a judge in La Paz.
Source: RT