The demonstrators were sentenced for the crime of hindering the operation of public services.
The Justice of Peru issued a sentence on Monday against 27 people accused of causing "acts of vandalism" in the framework of the protests against the interim government of Dina Boluarte.
The judicial process against the demonstrators was carried out based on actions carried out by the Public Prosecutor's Office Specialized in Crimes Against Public Order, belonging to the Ministry of the Interior.
According to what was reported by the official newspaper El Peruano, the Attorney General's Office acted "in the exercise of legal defense of the State" and managed to get the Judiciary of the Ica department, south of Lima, to issue these rulings for the crime of "obstruction to the functioning of public services".
A total of 27 people were sentenced for acts of vandalism during the protests in the country, thanks to the actions carried out by the Public Prosecutor's Office Specialized in Crimes Against Public Order, belonging to the #Mininter🗞️ https://t.co/bwbjNDlUk9pic.twitter.com/USa9mP6GFs

— Ministry of the Interior 🇵🇪 (@MininterPeru) February 6, 2023
"These people were fully identified as the perpetrators of the seizure of roads in this southern region. For this reason, they received convictions of more than three years' imprisonmentand are obliged to pay civil reparations for an amount greater than the 50,000 soles (about $12,990)", detailed the ministry in a statement.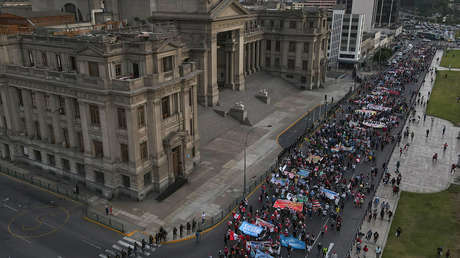 As explained by the government portfolio, those sentenced will not be subjected to effective imprisonment because, "given the evidence that incriminates them, they accepted early termination, thus obtaining their sentences without further delay."
However, the ministry clarified that, through the Attorney General's Office, it was possible for another 22 protesters prosecuted for violent acts in different regions of the country to receive pretrial detention term of between one and 18 months while they are investigated. The investigations that are underway in these 22 cases respond to events that occurred in the departments of Puno, Ucayali, Ica, Cusco and Arequipa, the authorities said.
On the eve of two months after the fall of former President Pedro Castillo, thousands of Peruvians continue to demonstrate against Congress and demand the resignation of President Boluarte and the early elections.
The protests have already left some 70 dead since the political crisis began, on December 7, with the parliamentary dismissal of Castillo. On Sunday night, the Government decreed a curfew in Puno and a state of emergency in seven departments for 60 days.


Source: RT