Between 1897 and 1972, more than 6,100 minors from aboriginal communities were admitted to this center.
An indigenous group in Canada has found more than 170 possible unidentified graves on the grounds of a former residential school where thousands of Aboriginal children were boarded, local press reports.
The Wauzhushk Onigum Nation reported Tuesday that with the help of ground penetrating radar located 171 "anomalies" on the grounds of the cemetery owned by the St. Mary Indian Residential School, in the town of Kenora, province of Ontario.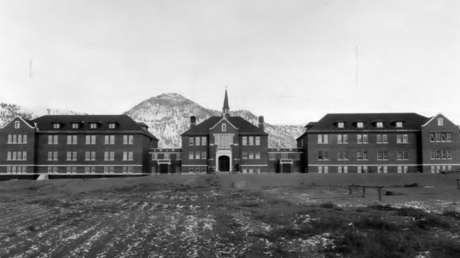 Those "anomalies" would correspond to undocumented burials of Aboriginal children. "With the exception of five tombstones, the rest are not marked by any tombstones," the indigenous group said.
Government policy of forced assimilation
At St. Mary's Indian Residential School, which operated from 1897 to 1972, they were hospitalized a total of 6,114 minors natives. According to records from the Canadian Truth and Reconciliation Commission, at least 36 children died in that institution, although the real number could be higher.
The Minister of Northern Development and Indigenous Affairs of Ontario, Greg Rickford, offered his condolences to the indigenous group and assured that he will support both the investigations and "the healing of survivorstheir families and community members who suffer from mental health and addiction problems, due to the intergenerational trauma and damages inflicted" by said school system.
The investigations, promoted by the indigenous people themselves throughout the country, have found since May 2021 evidence of at least 1,800 possible graves unidentified that would contain the remains of indigenous minors.
In all, some 150,000 children belonging to ethnic minorities were enrolled in such boarding schools across Canada from the late 19th century to the 1990s, within the framework of a government policy of forced assimilation.
Most of these establishments were operated by the Catholic Church. Children spent months or years isolated from their families, language and culture, and many were victims of physical and sexual abuse by principals and teachers.
According to official data that is still considered incomplete, some 6,000 children fostered in residential schools diedmostly due to malnutrition, disease or negligence, which the Truth and Reconciliation Commission described as "cultural genocide".
Source: RT