The researchers were impressed to find igneous rocks instead of sedimentary, so it was known that its soil was of volcanic origin and not sedimentary.
An international group of scientists identified the possible presence of organic compounds in three igneous rocks (solidified magma) collected by NASA's Perseverance at the bottom of the Martian Jezero crater, the site where the rover landed in February 2021, reports the Imperial University of London.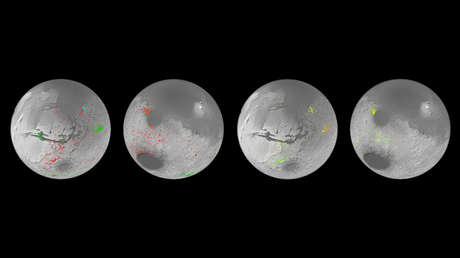 The US space agency chose this topographic depression, located on the western edge of the Isidis Planita plain north of the Martian equator, because it is thought to have once been covered by water, as well as being home to an ancient river delta. , which could reveal evidence of the red planet's wet past.
Specifically, the authors of the research, published by the journal Science, were interested in the Jezero delta, since it is believed that traces of microorganisms that were trapped in the sediments deposited by the water at the bottom are preserved in this geological formation. of the crater.
The floor of the Jezero crater is of volcanic origin
However, when Perseverance landed in the place defined by NASA, the researchers were shocked to find igneous rocks instead of sedimentary, so it was known that the crater floor was of volcanic origin and not sedimentary.
After carrying out a series of analyzes with ultraviolet Raman spectroscopy and deep fluorescence, using the SHERLOC instrument, present on Perseverance, signs were detected that the rocks had been altered by contact with water. Specifically, the scientists found signs of two types of disturbance, suggesting that there were two distinct watery environments at different times in the early history of Mars.
The first occurred due to reactions with liquid water, which caused the formation of carbonates in igneous rocks rich in olivine (magnesium silicate). While the other reaction, also with water, gave rise to rocks containing a mixture of perchlorate and sulfate.
However, these organic compounds do not indicate direct evidence of microorganisms, since these can be created from non-biological processes. Specialists hope that the samples obtained by Perseverance will be sent to Earth for more detailed study.
"I hope that one day these samples can reach Earth so that we can see evidence of water and possible organic matter, and explore whether conditions were suitable for life in the early history of Mars," said academic Mark Sephton.
Mars Sample Return would be one of the most ambitious campaigns ever attempted in space. But bringing those samples to Earth will be no easy feat, requiring multiple spacecraft to pick up the samples, launch off the Martian surface, and ferry them back to our planet . pic.twitter.com/CCWjeO87WU

— NASA JPL (@NASAJPL) November 17, 2022
If you liked it, share it with your friends!


Source: RT