The last eruption of the Kolumbo underwater volcano took place in 1650 and killed 70 people.
A group of volcanologists has discovered a large magma chamber growing under the Mediterranean volcano of Kolumbo, near the Greek tourist island of Santorini.
Kolumbo is an active submarine volcano located 8 km northeast of the island, in the Aegean Sea. High-resolution images and petrological data indicate that the magma chamber is about 0.6 km wide and 2 km deep, with about 42% molten mass.
The magma deposit is located between about 2 km and at least 4 km below sea level and represents a serious danger, since in the future it could cause an eruption that would generate a tsunami, according to a study published in Geochemistry, Geophysics, Geosystems.
The existence of a magma chamber increases the risk of a volcanic explosion. Kolumbo last erupted in 1650, breaking the surface of the sea and killing 70 people on the island.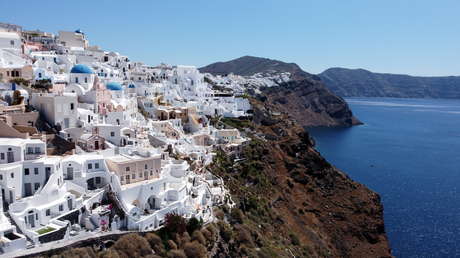 The discovery of the deposit has led researchers to recommend conducting real-time hazard monitoring near other active submarine volcanoes to improve estimates of when an eruption is likely to occur.
The researchers used a Full Waveform Inversion (FWI) technique in their assessments, which calculates differences in the speeds of sound waves fired from the water surface that may indicate underwater anomalies. The method is similar to medical ultrasound: with the help of sound waves, "images of the underground structure of the volcano" are created, one of the scientists told Phys.org.
This technique made it possible to find a huge chamber, with a total volume of magma of 1.4 km³. A magma chamber is a reservoir of magma that feeds a volcano and is located in the Earth's crust or upper mantle.
The chamber continues to expand: if the current growth rate continues, within the next 150 years the volume of magma could reach 2 km³, the scientists calculate. A similar amount of magma was ejected during the 1650 eruption.
Source: RT