The gold coin is bowl-shaped and has a four-pointed star surrounded by arcs in its concave part.
A rare 'rainbow bowl' from more than 2,000 years ago was found in Germany, and now rests in the Bavarian State Archaeological Collection.
Despite its name, it is actually a gold coin. minted in the 2nd or 1st century BC., which has an unusual interior design with a four-pointed star surrounded by arches. These types of coins receive this denomination because they are not flat, but rather have the shape of a small bowl.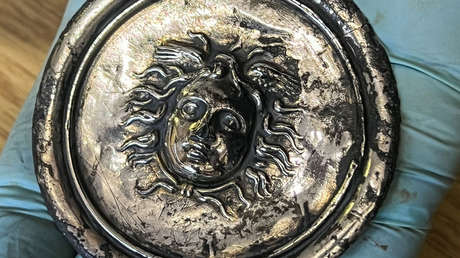 "The name 'bowl of the rainbow' comes from the legend that they are gold drops that fall to the earth at the end of a rainbow," explained the chief curator of the numismatics department of the Archaeological Collection in Munich, Bernward Ziegaus. "Another legend about these Celtic coins says that they can only be found by children born on Sunday," he added.
"In fact, the person who discovered it was born on a Sunday and is indeed a Sunday child, a lucky child!" he said.
The coin was discovered about 70 kilometers west of Munich, and it is not known how it ended up there. According to Ziegaus, he could have "accidentally gotten lost along the way", on the road that started from what is now known as Trento, in northern Italy, and later became known as the Roman road Via Claudia Augusta, which crossed the Alps.
rainbow coins
Only three 'rainbow bowls' with the four-pointed star design are known. "The star is perhaps a symbol of the four cardinal points, the arcs should be understood as signs of the horizon and the rising and setting of the moon," says Ziegaus.
The person who discovered the coin with the interior design is Michael Schwaiger, who also found another coin from the Celts; but after receiving an "immoral offer" of 6,000 euros (about $6,400) for both coins, he decided to donate them to the museum, according to Suddeutsche Zeitung.
Source: RT