The hydrogel can absorb vapor from the air in extremely arid conditions, even if the relative humidity of the environment is around 30%.
Engineers at the Massachusetts Institute of Technology (USA) developed a revolutionary low-cost superabsorbent material capable of absorbing quantities "without precedents" of water from the air, an advance that could solve the problem of shortages of this vital liquid in the most arid areas of the planet.
The new hydrogel, details the institution, is a transparent and rubbery material with highly absorbent properties, capable of extracting vapor from the air and retaining moisture without leaking, even in very arid conditions.
The absorbent capacity of the gel, similar to that used to make disposable diapers, was improved by infusing it with lithium chloride, a type of salt capable of absorbing more than 10 times its own mass in moisture. As a result, the compound can absorb and retain an unprecedented amount of moisture: 1.79 grams of water per gram of material.
Harvesting water from the desert
As the engineers detail in an article published in the journal Advanced Materials, as the hydrogel absorbs water vapor, it swells to accommodate more moisture. Even in very dry conditions, with a 30% relative humidity, the material can absorb vapor from the air.
"Any desert overnight would have that low relative humidity, so it is conceivable that this material could generate water in the desert," said Carlos Diaz-Marin, co-author of the publication.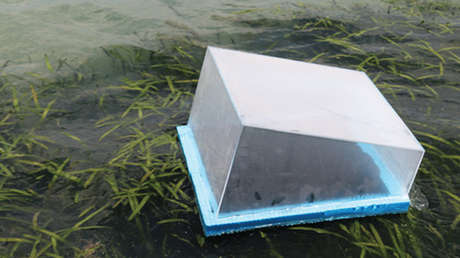 If manufactured on a large scale, experts estimate, the superabsorbent gel could be used as a passive collector of water in desert and drought-prone regions, where the material could continuously absorb low humidity from the air, which would then condense on drinking water.
Another of its potential applications, the authors point out, is in the home appliance industry, since this material, if installed in air conditioning systems, would be an excellent dehumidifying element with low energy consumption, which would improve the performance of the appliances. devices.
If you liked it, share it with your friends!
Source: RT