The images have sparked fierce criticism and are gaining notoriety at a turbulent time for the Royal Spanish Football Federation, which is trying to overcome the controversy over the kiss of its president to a player.
A new controversy surrounds the Spanish women's soccer team with the recent dissemination of a video in which its coach, Jorge Vilda, appears touching the chest of one of his assistants during the final of the FIFA Women's World Cup, held last August 20.
After Olga Carmona's goal that gave Spain victory over England, the entire bench celebrated. In the midst of the euphoria of the moment, Vilda brought her hand closer to the chest of the second coach of the team, Montse Tome. At that moment Vilda is looking away. It is unknown if the contact was intentional and with the consent of the former soccer player.
These images were recorded by the cameras that broadcast the event and have gained notoriety at a turbulent time for the Royal Spanish Football Federation (RFEF), which is trying to overcome the controversy sparked by its president, Luis Rubiales, and the kiss without consent that gave to soccer player Jenni Hermoso during the awards ceremony at the grand finale.
Both that incident and the one carried out by Vilda have unleashed fierce criticism against the RFEF and its managers on social networks, arguing sexist and macho behavior. A Twitter user has qualified the gesture of "shameful" and "regrettable". While others have urged so that this episode does not go unnoticed in the midst of the media storm that surrounds Rubiales. "They have to pay both", wrote a netizen.
This Friday, the sports body will hold an extraordinary general assembly where the Rubiales case will be discussed, and most likely the coach's behavior. "The internal proceedings of the Federation regarding integrity issues are open, as well as the rest of the applicable protocols," the institution indicated.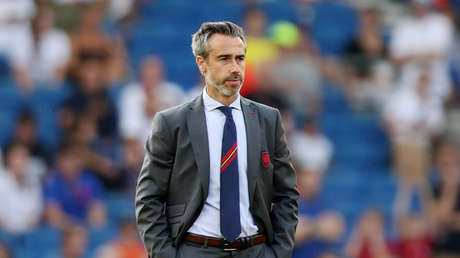 Past complaints against Vilda
Jorge Vilda has already been a reason for repudiation before. In recent years it has caused divisions within the squad that have become more acute. In September 2022, a group of 15 players expressed to the RFEF their desire to resign from the senior team if Vilda continued in command. The soccer players claimed that, with him in the squad, his emotional state and health were affected. According to the newspaper Mundo Deportivo, his excessive control, even classified as "dictatorial", was one of the main reasons for demanding his departure. Despite the widespread disagreement, the Federation dismissed the request, kept Vilda and warned that it would not accept any kind of pressure.
When the situation broke out, several of them denied that they were asking for their resignation, although they recognized that there were "certain internal aspects" that had to be "changed". Finally, some of those involved reversed their decision.


Source: RT