Reza Baluchi, in his fourth attempt to 'run on water' in nearly 10 years, faces two federal charges.
The US Coast Guard has arrested a man who was trying to 'run on water' and cross the Atlantic Ocean to reach London, United Kingdom, in a 'hamster wheel'-shaped water vehicle, Fox News reports this Wednesday.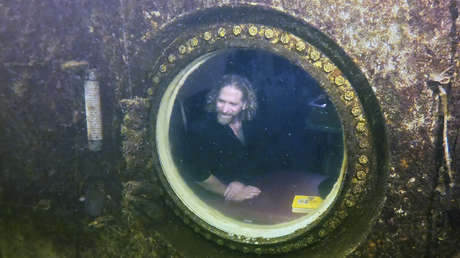 According to the complaint, to which the media had access, Reza Baluchi, 51, was found on August 26 more than 110 kilometers from Tybee Island, belonging to the state of Georgia. The coast guard urged the man, of Iranian origin, to conclude his journey, claiming that he was not safe, and that he did not have the required registration.
However, the athlete and activist threatened to commit suicide with a 12-inch knife if anyone tried to stop him and claimed to have a bomb on board. After trying for days to get the man to board Coast Guard vessels, he admitted that he did not have any real explosives and on September 1 officers managed to get him ashore in the city of Miami, Florida.
Thus, Baluchi, who claims that his efforts were intended to raise money for various charitable causes, faces two federal charges for vessel obstruction and violation of a harbor master's order.
This is the athlete's fourth attempt to 'run on water' in his unusual transport. In 2014, 2016 and 2021 he tried to make similar trips, but they all ended with the Coast Guard intervening.
Source: RT