Rudy Farias even had interactions with the Police, although under false names.
The young American Rudy Farias, 25, declared missing in Houston (Texas) in 2015 and found last Thursday, actually lived all that time with his mother and therefore kept the agents under deception, the Houston Police announced. this Thursday at a press conference.
"After investigators spoke with him yesterday, it was determined that Rudy returned home the day after he was reportedly missing, on March 8, 2015Lt. Christopher Zamora stated. "His mother continued to mislead police, adamant that Rudy was still missing," he added.
During the investigation, which is still ongoing, the Police discovered that throughout these eight years the young man reported missing had interactions with some agents, although during each of these contacts he gave fictitious names and false dates of birthdeceiving law enforcement.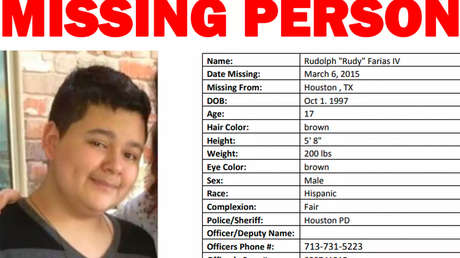 "In fact, both Janie, Rudy's mother, and Rudy himself, gave fictitious names while they were interacting with various officers," Zamora revealed.
Houston Police Chief Troy Finner refused to answer questions about the mental health of Farias and his mother, nor did he comment on what would be the possible motive for their actions. For now, officers are "at the beginning" of their investigation into what happened, he added.
Farias was hospitalized after he was found last week. After the police announcement about the discovery of the "disappeared" young man, his mother, Janie Santana, declared in a statement that her son was receiving the necessary care "to overcome his trauma", did not speak and was not able to communicate with anyone.
Source: RT