These are two authorizations granted by Congress in 1991 and 2002.
The US Senate has supported repealing two resolutions that enabled the invasions of Iraq in 1991 and 2003 and gave the country's president broad powers for future military operations without congressional approval.
Lawmakers voted Wednesday 66 to 30 in favor of revoking the two authorizations for the use of military force (AUMFfor its acronym in English).
The project must now be approved in the House of Representatives before arriving at the table of President Joe Biden, who, according to what the White House has stated, supports the cessation of these two AUMFs.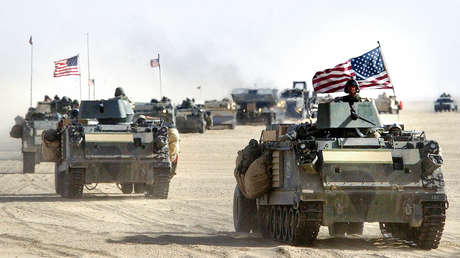 Indiana Sen. Todd Young, a Republican, meanwhile, said a broad coalition of congressmen backs the bill, which he co-sponsored with Virginia Democratic Sen. Tim Kaine.
The 2003 Iraq war, illegal under the UN Charter, was launched by the Administration of then-President George W. Bush with the false claim that Iraqi leader Saddam Hussein was developing massive destruction weapons that could be used against the US
The invasion and subsequent occupation of Iraq by a US-led coalition killed up to 210,000 civilians, according to the Iraq Body Count project. The country became a focus of jihadism and much of northern Iraqi territory fell under the control of the terrorist group Islamic State after the withdrawal of US troops in 2011.
Before the vote, Senate Majority Leader Chuck Schumer, D-N.Y., said that "it is time that existing laws update with changes" that his country, Iraq and the entire world have experienced since 2002, when the last of the two AUMFs was approved. He indicated that these authorizations create a threat that a future administration will take advantage of them to evade authority of Congress on military powers.
However, the Senate has blocked efforts by Senator Rand Paul, R-Ky., to also repeal the 2001 AUMF it enabled George W. Bush's war on terror after the 9/11 attacks and remains the legal basis for US military operations throughout the world. Thus, former President Donald Trump used it to justify the assassination by airstrike of Iranian General Qasem Soleimani in Baghdad in 2020.
His predecessor in the White House, Barack Obama, called the Iraq war over in 2011, but sent troops again to the country three years later to fight the Islamic State. The same 2014, the US forces. invaded illegally Syria, where to this day they continue to be present in an oil region.
Source: RT