According to their data, Washington's special services are holding discussions with their partners about the possible perpetrators and are betting on people from the close circle of the rebel military.
Washington is considering different variants to influence the situation in Niger, where on July 26, the self-proclaimed National Council for the Defense of the Fatherland (CNSP) staged a coup against President Mohamed Bazoum. The press office of the Russian Foreign Intelligence Service (SVR, for its acronym in Russian) commented on these plans this Thursday.
"The White House analyze different options to 'reinforce democracy' in Niger. "It is considered unjustified to do so through the Economic Community of West African States (ECOWAS), which has strong ties with Paris," the SVR maintains.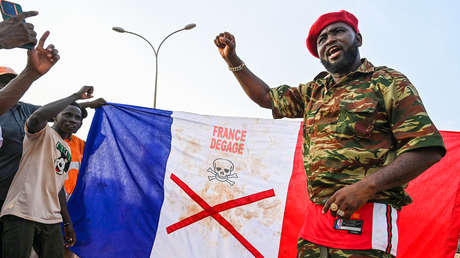 According to Russian Intelligence, the US perceives "the physical liquidation of 'coup leaders' who have the support of the majority of the population as a more 'effective' option." "Representatives of the US special services discuss directly with their partners about potential perpetrators of possible attacksbetting on people from the close circle of leaders of transitional structures, preferably among those who received special training in the Pentagon's educational institutions," follows from the comment.
Furthermore, the SVR recalled that the US has experience in operations against African leaders since the 1960s. "In particular, the CIA participated in the assassination of Patrice Lumumba in [la Republica Democratica del] Congo, the overthrow of Kwame Nkrumah in Ghana, the arrest of Nelson Mandela in South Africa," he detailed. He added that, due to the CIA's harsh and provocative style of operations, former US president Lyndon Johnson called it a "damn corporation of murderers." ".
The Niger coup was led by the head of the presidential guard, Brigadier General Abdourahmane Tchiani, who proclaimed himself president of the National Council for the Safeguarding of the Fatherland on July 28.
On August 10, the head of the military junta ordered the formation of a transitional government. Since August 25, the Armed Forces of Niger have been on high alert due to the danger of external intervention by ECOWAS and possible attacks by the French military contingent deployed in the country.
Source: RT