Eight rugby players are charged with "double felony manslaughter". The court rejected a second request for annulment.
This Monday began in Argentina the trial against eight rugby players accused of kill with blows and in packs Fernando Baez Sosa, a 19-year-old law student, in Villa Gesell, Buenos Aires province, on January 18, 2020.
That night, the victim went out dancing at a local nightclub, where he spent his vacations. Hours later, he ended up dead on a sidewalk a few meters from the place. Several witnesses and videos were able to record what happened: the boy was attacked by the group of athletes, who They did not stop attacking him until they ended his life.
On the first day of the trial, the court rejected two motions for annulment made by the defendants' defense, so the debate that began this morning will continue and will not be suspended.
Mocking: "Fernando Baez Sosa fell to his knees while the defendants took turns hitting him without stopping," the lawyer for Baez Sosa's family maintained the guidelines of the accusation against the rugby players for the young man's murder. pic.twitter.com/dEG8hAf5ez

– Public Television (@TV_Publica) January 2, 2023
The attackers of Baez Sosa, friends and members of the Arsenal yacht club, from the Buenos Aires town of Zarate, face an accusation for the crime of "doubly aggravated homicide due to treachery and the premeditated cooperation of two or more people", whose penalty could be life imprisonment. They are Luciano Pertossi, 21 years old and nicknamed 'Chano'; Ciro Pertossi, 22; Lucas Pertossi, 23; Ayrton Viollaz, 23; Maximum Thomsen, 23; Enzo Comelli, 22; Matias Benicelli, 23, and Blas Cinalli, 21.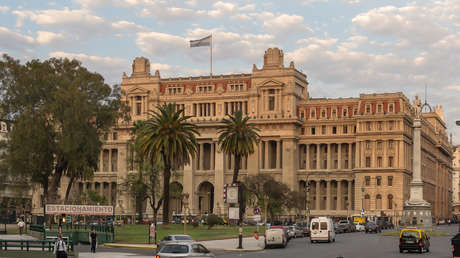 "Our Heart Is Broken"
The parents of the victim attended the session in the courts of Dolores, province of Buenos Aires, where the judicial process is taking place. "The first day we are going to testify so that we can be in the courtroom for the entire trial, but we don't know if we are going to be able to last that long there because It is a very hard moment to remember everything they did to my son"said the young man's father in statements to the press.
In the same vein, the mother added: "Our hearts are broken. They were very cowardly as they attacked my son and the wound is very big."
The prosecutor's office involved in the case today accused the eight defendants of "agreeing to kill" Baez Sosa, by attacking him "by surprise" taking advantage of "that he was talking on the sidewalk, distracted."
For his part, one of the lawyers representing the victim's parents demanded life imprisonment for the rugby players, whom he accused of committing "a manhunt"while the defense of the defendants requested the suspension of the trial considering that the constitutional guarantees of the accused were not respected during the investigation of the case.


Source: RT