"We have taken the first step to open a new political cycle in Spain," said Alberto Nunez Feijoo, president of the PP.
The right-wing Popular Party (PP) won with 31.5% of the votes in the municipal elections held this Sunday, against the Spanish Socialist Workers' Party (PSOE) of the Prime Minister, Pedro Sanchez, who obtained 28.1% support.
The PP, led by Alberto Nunez Feijoo, achieved an absolute majority in 459 municipalities and won 23,414 councilorswhile the Socialists were left with 429 municipalities and 20,783 representatives.
In addition, the PP obtained a majority in seven of the 12 communities that concur: in Aragon, Cantabria, the Valencian Community, the Balearic Islands, Murcia, La Rioja and the Community of Madrid. While the PSOE achieved a victory in only four: Asturias, Navarra, Castilla-La Mancha and the Canary Islands.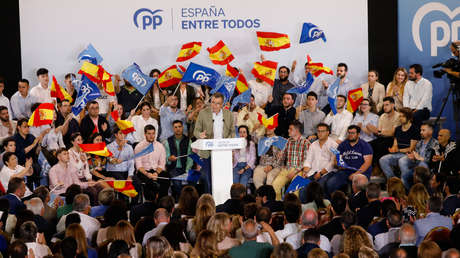 Although the PSOE remains the leading political force in Extremadura, the PP could have a majority if it manages to agree with the far-right Vox party. On the other hand, Navarra is the only community where neither of the two main parties won and the victory went to Union del Pueblo Navarro (UPN).
"New political cycle in Spain"
"We have taken the first step to open a new political cycle in Spain", wrote Feijoo on his Twitter account, while thanking the support of the 7 million people who voted.
For its part, the Socialist Party acknowledged its defeat and congratulated the PP on its victory.
"I want to recognize the defeat of the PSOE in these elections and congratulate the PP on its result", express Pilar Alegria, spokesperson for the Socialists and Minister of Education. Alegria described the results for her match as "bad", arguing that they were not what they expected. "We have to reflect", he summarized and thanked the more than 6 million citizens who "have trusted the PSOE".
"The will of the citizens is clear and the PSOE assumes that we must do things bettertry harder to build trust in the upcoming elections," he said.


Source: RT