During the protests that took place between the end of last year and the beginning of this year, 67 people died.
The Peruvian Prosecutor's Office decided not to file an appeal to prevent President Dina Boluarte from being questioned by the relatives of those killed during the protests against her, which occurred between the end of 2022 and the beginning of 2023, in which 67 people lost their lives. Therefore, the lawyers will be able to advance in this procedure, publish local media.
The Public Ministry desisted from carrying out this procedure during a hearing held on Tuesday, August 15. In addition to the president, the measure also involves her head of the Council of Ministers, Alberto Otarola. Both are accused of the crimes of genocide and qualified homicide.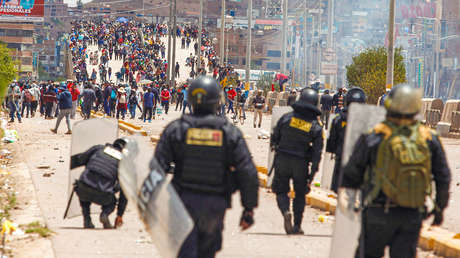 However, Boluarte's lawyer, Joseph Campos, rejected the accusation and assured that "the participation of the president for genocide does not make sense." "There is no genocide in any way and political responsibility does not exist, because the instructions were specific and developed in accordance with the law," he said.
Meanwhile, after the Prosecutor's decision, the lawyer Carlos Rivera Paz, who represents the relatives, announced that he will seek to carry out the interrogations as soon as possible.
Of the 67 deaths who left the protests, 49 occurred during clashes with law enforcement, according to the Inter-American Commission on Human Rights. However, neither the Government has punished the military or the police nor has the Prosecutor's Office charged anyone responsible.
Source: RT