Suleman Dawood's mother said her son wanted to break the Guinness record for solving a Rubik's cube while 3,700 meters under the sea on the Titanic.
Christine Dawood, wife of Pakistani businessman Shahzada Dawood and mother of Suleman Dawood, who died on the Titan submersible expedition to the Titanic wreckage, told the BBC in an interview on Monday that her son decided to go on the expedition to break a world record aboard the bathyscaphe.
According to Christine, Suleman, 19, wanted to get the Guinness record for Solve Rubik's Cube 3,700 meters under the sea on the Titanic, which is why the young man brought his Rubik's cube on board and his father a camera to film the feat. The woman also stated that she was the one who should go on the expedition with her husband, but she gave her place to her son because the boy "really wanted to go."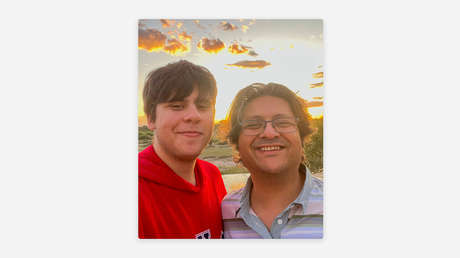 The entire Dawood family boarded the mother ship Polar Prince and as Shahzada and Suleman dived into the Titan, Christine and her 17-year-old daughter Alina waited for them on board the ship. "I was very happy for them, because they had wanted to do it for a long time."said Christine. Both remained aboard the Polar Prince while the search and rescue mission was carried out.
Christine told that I had given up hope when it passed the 96 hour markwhile his daughter hoped for a happy outcome until a call from the US Coast Guard informed them that debris from the submersible had been found.
Christine noted that she and her daughter plan to learn how to solve a Rubik's Cube in memory of Suleman. She also intends to continue her husband's work.
He Titan lost contact with its mother ship Polar Prince on June 18 after dive towards the wreckage of the Titanicabout an hour and 45 minutes after the start of the dive.
On Thursday, the US Coast Guard announced the discovery of the wreckage of the submarine, stating that the character of the debris suggests the deaths of the five crew members.
In addition, Rear Admiral John Mauger explained in a press conference that "the debris field was consistent with a catastrophic implosion vehicle".
Source: RT