On Monday, Moscow announced the suspension of its participation in the Black Sea grain deal.
Continuing the export of grain from Ukrainian ports without Russian involvement creates certain security risks for the remaining parties to the grain deal, Russian President Dmitry Peskov's spokesman has warned, a day after Russia announced it was suspending its participation in the deal. agreement.
"It is certainly a matter that requires comment from our military, as it is an area close to the war zone, in which without adequate security guarantees, certain risks arise. That's why if something is undertaken without Russia, these risks must be taken into account. In this regard, we cannot say to what extent and which countries are willing to take these types of risks," the spokesperson told reporters.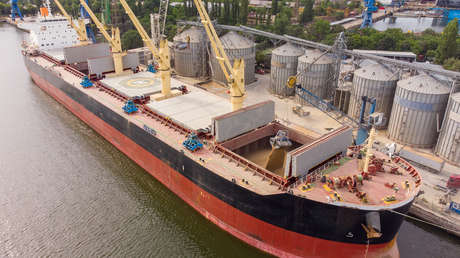 Speaking of the region that remained safe with the grain agreement in force, he noted that "it is not a secret to anyone that this area was used by the Kiev regime for combat purposes" which he described as "a very important aspect that is not must ignore."
Ukrainian President Vladimir Zelensky conveyed to Turkey and the UN on Monday night his proposal to go ahead with grain exports without Russia and accused Russia of trying to "weaponize hunger and destabilize the world food market." ".
A few hours earlier, the Russian Foreign Ministry had explained that Moscow opposes the extension of the agreement due to non-compliance with the obligations stipulated in the document to unlock Russian grain and fertilizer exports to the markets. Likewise, the Foreign Ministry argued that, despite the fact that the agreement was sealed in July 2022 with the aim of reducing the threat of famine and helping the poorest nations, more than 70% of the 32.8 million tons exported were sent to high and upper-middle income countriesincluding the European Union.
In this regard, the agency also noted that the Black Sea Initiative "has not met its humanitarian objective". On the other hand, he indicated that the suspension of the agreement means that the security guarantees for navigation are withdrawn and the regime of temporarily dangerous zone in the northwestern waters of the Black Sea is restored.
Source: RT