The measure enters into force this December 16 and extends for five days.
The Government of Peru has decreed a curfew in 15 provinces of eight of the 25 departments of the country due to the massive protests that arose after the vacancy of Pedro Castillo and the swearing in of the vice president, Dina Boluarte, as the country's new president.
"Declare for the term of five days calendar the mandatory social immobilization of all people in their homes within the framework of the State of Emergency at the national level", reads the supreme decree published in the official newspaper El Peruano.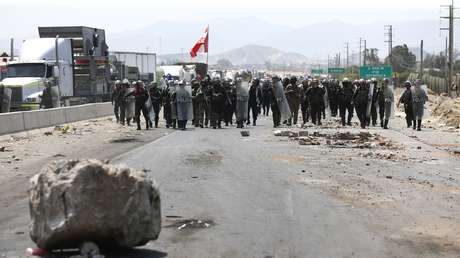 The departments in which the measure is implemented as of this Friday are Arequipa, La Libertad, Ica, Apurimac, Cusco, Puno, Huancavelica and Ayacucho. The curfew hours vary depending on each province and range from 6:00 p.m. to 4:00 a.m., from 7:00 p.m. to 4:00 a.m. and from 8:00 p.m. to 4:00 a.m. (local time).
What exceptions does the curfew have?
People are allowed to circulate on public roads for "the acquisition, production and supply of food, which includes its storage and distribution for sale to the public."
It is also possible to travel by vehicle for those people who require urgent medical attention or for the acquisition of medicines. It is specified that pharmacies and apothecaries "can provide care according to the norm of the matter."
At the same time, the staff of the written, radio or television press may travel as long as they carry their personal work pass, their journalistic credential and their national identity document.
Likewise, "strictly necessary personnel are excepted" who participate in the provision of essential services.
Source: RT