The shooting occurred on Monday at an educational center in the city of Izhevsk, leaving at least 15 dead, including 11 minors.
The president of Nicaragua, Daniel Ortega, and the vice president of the nation, Rosario Murillo, have sent a message of condolences to their Russian counterpart, Vladimir Putin, after the shooting that occurred this Monday at a school in Russia that left at least 15 dead, including 11 children, and 24 wounded.
"We share in solidarity your pain at the tragedy that occurred today in a school in the Russian city of Izhevsk, Udmurtia region," the letter reads.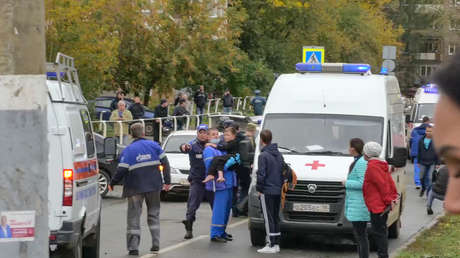 In the letter, Ortega and Murillo expressed their condolences to the relatives and companions of "the little wounded and deceased", while denouncing the "supremacist, racist, fascist ideologies and enemies of life, [que] they are part of the insanity that continues to assault and threaten the human family."
"To you and the dear Russian people, all our love and prayers for the soul of these creatures and for comfort to their parents, family and friends," the letter concludes.
armed attack
The assault took place in the morning during school hours, when a man dressed in black broke into School No. 88, killed an employee security and opened fire on the students. The fatalities include two security guards and two teachersBesides minors.
The offender was armed with two traumatic pistols converted into lethal weapons, according to the press service of the local division of the Russian National Guard. The head of the Republic of Udmurtia, Alexander Brychalov, confirmed the death of the attacker.
Source: RT