The images were taken on August 14 and were shared on social networks.
The Federal Police (PF) of Brazil will analyze videos that show alleged UFOs flying over the Congress in Brasilia, and that they would have been captured last night August 14, G1 reported.
In the images, disseminated through social networks, you can see at least three objects in flight, which emit an intermittent light and change direction repeatedly.
The lights were also captured as they passed over the Esplanade of the Ministries and then disappeared. That area of ​​the Federal District, which houses important public buildingshad been attacked in January, during incidents carried out by supporters of former President Jair Bolsonaro after the inauguration of the current president, Luiz Inacio Lula da Silva.
It was taken on August 14th around 8:30 pm using a Samsung Galaxy S23 Ultra. The only mundane explanation would be white birds reflecting city luminosity. However, I never saw something like that in Brazil only in Northern hemisphere with birds like Canadian snow gees. pic.twitter.com/0SY3Tm79Oo

— Rony Vernet 🇧🇷 (@RonyVernet) August 17, 2023
From G1 they consulted the PF if they had used drones on that date, and although there they confirmed that they will analyze the images, they replied that this force "does not detail any investigative method or technique."
Drones or birds?
As reported by the Brazilian media, the video was recorded around 8:30 p.m. (local time) and sent to electronic engineer Rony Vernet, a computer scientist for the state oil company Petrobras, who posted it on his X account (formerly Twitter) five days ago. . Vernet is a researcher of Unidentified Anomalous Phenomena, known by the acronym UAP (Unidentified Anomalous Phenomena, in English).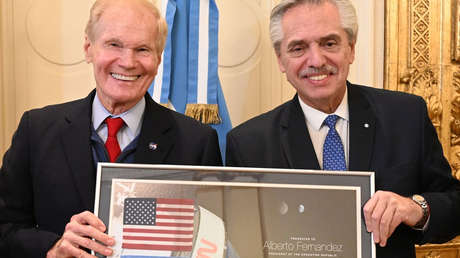 For the Brazilian ufologist, "the only mundane explanation would be the white birds that reflect the light of the city"he said, although he clarified: "However, I never saw anything like this in Brazil, only in the northern hemisphere, with birds like Canadian snow geese."
According to Thiago Ticchetti, president of the Brazilian Commission of Ufologists (CBU), as they have not yet been explained or defined, the objects registered on Monday the 14th in Brasilia continue to be classified as UFOs, that is, unidentified flying objects.
Ticchetti, on the other hand, maintains that it must have been drones arranged by the authorities in order to control the site before the call 'March of the Daisies'convened by women farmers from Brazil for the 15th and 16th of August.


Source: RT