The health authorities do not report side effects in any minor, however, they call to prevent massive poisoning.
The state of Tlaxcala, in central Mexico, suspended the sale and distribution of a popular candy called 'Lucas Muecas' in all schools in the state, after conducting a clinical test and finding that it was adulterated, reported the local Secretary of Health last Friday.
Following a citizen complaint, the study collected 64 random samples of the chili powder lollipop, issued by various stores and stalls around 25 schools in the state capital to determine if the product was contaminated. The initial test was positive, the Tlaxcala Health Secretary, Rigoberto Zamudio, told El Pais.
🚨 An alert is issued in my state of Tlaxcala, where the sale and distribution in all educational institutions of the entity is prohibited, the product called "LUCAS MUECAS", in an analysis the results showed that they were adulterated. This is very delicate 👇🏻 pic.twitter.com/dOIGMSl2kC

— Dr. Hector Rossete (@HectorRossete) November 11, 2022
"It is the dust in which it is found, in this previous analysis, that is why this preventive suspension is made. This was already the reason for the Ministry of Health to send a warning and for the Ministry of Education to also be taking action," The Secretary of Government of Tlaxcala, Sergio Gonzalez Hernandez, explained to Milenio in an interview published this Wednesday.
According to the official, so far no minor has reported effects for consuming the product, however, he stressed that the authorities are careful to prevent mass poisonings from occurring, such as those that have been reported in recent months in other states.
What was in the candy?
A clinical analysis – commissioned by a private school and disseminated on social networks – ensures that the product contained ingredients such as methamphetamines, amphetamines, marijuana and opiates. However, local authorities still cannot ensure the presence of these substances, since the State Commission Against Sanitary Risks (Coeprist) is carrying out a more specialized study.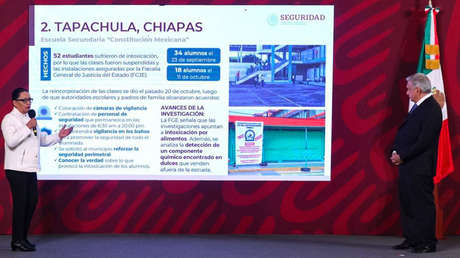 "We need more specialized laboratories to know the content of the product," said Gonzalez Hernandez, who explained that once Coeprist confirms the presence of drugs in the candy, an investigation will begin for drug dealing.
The manufacturers' response
The company behind 'Lucas Muecas', the American Mars Wrigley, responded to the express request of Milenio that some of the pieces analyzed by the Tlaxcala authorities had their opening seals broken, "which meant that they could allegedly be adulterated."
"Products that maintain their original packaging are safe for consumption," said the company, which defended the quality standards of its product. The company also condemned "any type of activity that harms the health" of consumers.
If you liked it, share it with your friends!


Source: RT