Previously, the Board of Directors of Parliament ignored that party's bench. Its five deputies, including Bernardo Arevalo, were declared independent.
The Guatemalan Congress has initiated a legislative process in order to resolve the situation of the Semilla Movement, the party of president-elect Bernardo Arevalo.
The Board of Directors of Parliament issued a statement this Sunday, after the Supreme Electoral Tribunal (TSE) of that country temporarily revoked the suspension of space.
The board reported that it will instruct the Legal Affairs Directorate of Congress to make inquiries before the TSE Citizen Registry regarding the case.
"It is necessary to carry out the corresponding consultations before the Citizen Registry of the Supreme Electoral Tribunal, the body that must resolve issues related to political parties in the country," the text indicates.
The board also instructed the Directorate of Legal Affairs to, after consultations, "the status of the Semilla Movement Legislative Block is restored", if applicable, also updating the list of legislative blocks and making the corresponding notifications.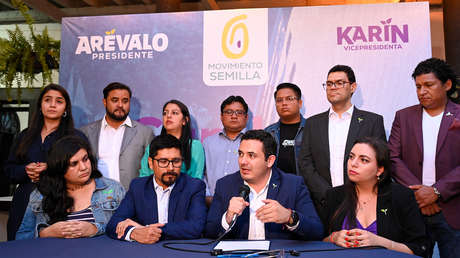 Controversial suspension
The General Directorate of the Citizen Registry of the TSE provisionally suspended the legal personality of the political party on August 28 in compliance with the court order of Judge Freddy Orellana, which prevented Semilla from any type of activity and reduced the powers of its members. deputies.
On the same day, the court made official the results of the runoff election that constitute Arevalo as the elected president.
While, two days later, the Board of Directors itself of Parliament, chaired by pro-government congresswoman Shirley Rivera, ignored the Semilla Movement bench, based on the resolution of the TSE Citizen Registry. In this way, its five deputies, including Arevalo, They were declared independent without a legislative bloc.
The Semilla Bank never disappeared, except in the deepest desires of the corrupt people whom we inconvenienced. We move forward and we will continue thanks to the people of Guatemala 🌱🇬🇹

— Samuel Perez Alvarez 🌱 (@samuel_pz) September 3, 2023
This led Arevalo to denounce a coup attempt "in progress" to prevent him from assuming power in January 2024, because politicians and officials continue to refuse to accept his victory in the elections.
From the highest electoral body in the country they declared on Sunday, September 3, that the resolution issued by the Citizen Registry is left in suspense "until the electoral process is over [el 31 de octubre]". Likewise, they urged the three powers of the State to "continue to ensure respect for the popular will expressed at the polls, the integrity, purity and effectiveness of the electoral process."
If you liked it, share it with your friends!


Source: RT