Currently there are a total of 256 fires in the Andean nation, of which 151 are controlled and 67 are being fought.
The Minister of the Interior of Chile, Carolina Toha, has expressed her "great concern" about the forest fires that are plaguing the Latin American country during a press conference held this Saturday by the National Disaster Prevention and Response Service.

"Some of those new fires caused great concern, because they developed in places close to highly inhabited areas", he explained, although he specified that the "greatest source of concern" on February 18 was in fires that had been burning for days.
🔴 Today I summoned the National COGRID together with the minister @mayafernandeza, due to new sources of fires and reactivation of the SAE alert in communes of the Biobio and La Araucania regions. Emergency agencies, Undersecretaries of Government and Armed Forces also participate. pic.twitter.com/vD054WWTiD

— Carolina Toha (@Carolina_Toha) February 18, 2023
Toha indicated that there are currently a total of 256 fires in the Andean nation, of which 151 are controlled and 67 are being fought. On the other hand, he cautioned that there is a possibility that some active fires move into heavily populated areas.
The official explained that most of the resources will go to those places at risk, mainly in the Biobio Region —in the Santa Ana and El Cortijo fires— depending on the direction of the wind.
Avoid new foci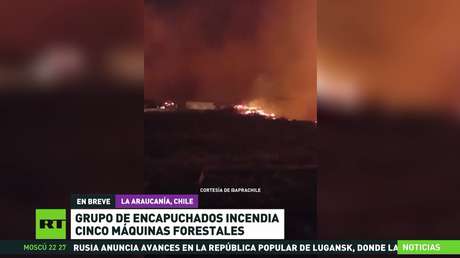 "In the case of La Araucania, the issue is mainly to prevent new outbreaks from being generated. So it is not so much a concern for fires that are currently developing, but the possibility that new outbreaks appear as they appeared yesterday and that were very danger," he continued.
In this sense, he pointed out that the fire has caused "very serious damage tothe people's health", seriously injuring two people. One of them is a 16-year-old boy who is "in vital risk", as well as material damage to homes.
In the midst of the devastating fires in the south-central zone of Chile, which have already claimed the lives of 26 people and have devastated at least 425,000 hectares of land, President Gabriel Boric decreed a curfew last week in Nuble, Biobio and La Araucania to guarantee the safety and tranquility of the affected families.
The causes of the emergency could include both climate change and the anthropogenic factor. In this sense, 30 people have been arrested for carrying out "reckless actions" with the potential to cause new sources of fire.


Source: RT