The text still has to go through the Senate this Thursday and, if it does not, the Executive structure would lose 17 portfolios.
With the deadline for voting about to end, the Brazilian Chamber of Deputies approved on Wednesday night the provisional measure that restructures the Government and prevents what would have been the biggest defeat suffered by Luiz Inacio Lula da Silva since he came to power.
With a series of modifications, the plenary approved by 337 votes in favor, 125 against and one abstention, the text that expands the number of ministries to 31 and 6 bodies with portfolio status.
However, the measure still has to go through the Senate this Thursday. If it does not go ahead, it would return to the idea promoted by former president Jair Bolsonaro of "shrink the state" by reducing the number of ministries to 17, with several controversial portfolio mergers.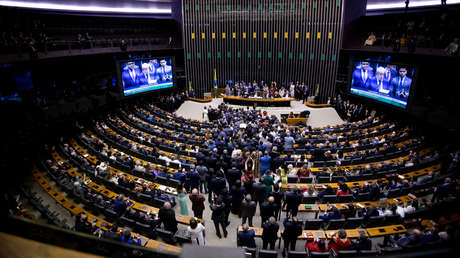 Among the main modifications made are those suffered by the Ministries of Environment and Indigenous Peoples. The management of the cadastre was removed from the first portfolio, where all rural properties must be registered and which is used to map land invasions and control of deforested areas. The second was stripped of the power to demarcate the lands of the original peoples to pass the competition to the portfolio of Justice.
Despite initial reluctance, Lula's government had no choice but to give in to the changes proposed by the rapporteur of the text, Isnaldo Bulhões, who responds to the requests of the ruralist bench and the 'centrao', a group of conservative parties without a defined ideology that dominates Brazilian politics, supporting or rejecting projects based on their interests.
Lula called a meeting with his advisers on Wednesday morning. The ruling party lacks sufficient strength in Congress, so any bill you want to pass requires a bargaining chip and a willingness to compromise.
According to Folha de Sao Paulo, the president promised to speed up the release of resources and appointments.
If you liked it, share it with your friends!
Source: RT