The protests coincide with the start of the electoral campaign for the elections on June 25, after the registration of the candidacies of the Movement for the Liberation of the Peoples was denied.
Guatemalan peasants and indigenous people announced that this Tuesday the national strike and the road blockade will continue for the second consecutive day, in protest of the new reforms that seek to regularize informal commerce.
"Due to not having received, up to now, a favorable response to our requests, the strike will continue," they announced in a release the mayors of the indigenous communities of the 48 cantons of Totonicapan, a department located some 180 kilometers from Guatemala City.
In the text, it is also requested that "more organizations join this cause" and a call is made to the people so that "all shops remain closed".
According to the local newspaper Prensa Libre, the group asks to knock down bill 6165, which proposes to approve the regularization and incorporation of the agricultural and informal sector into the tax system and that they pay 5% of their total sales.
The indigenous authorities denounce that the taxes are not reflected in "a common good".
"We see schools in terrible conditions, health centers without medicines, roads in poor condition, if the taxes were used in the best way we would not oppose", a community leader who, without mentioning his name, echoes the press.
They also reject government agreement 245-2022, which obliges merchants to issue an invoice with the name of a legal or natural person for purchases over 2,500 quetzales (about $320).
The electoral campaign begins
These protests coincide with the start of the electoral campaign for the elections on June 25 and in which the president for 2024-2028 will be elected, in addition to deputies, legislators of the Central American Parliament and municipal mayors.
The campaign began full of controversy after the Supreme Electoral Tribunal (TSE) ratified the non-registration of the candidacy of the presidential formula of the Movement for the Liberation of the Peoples (MLP), made up of Thelma Cabreraas a candidate for the presidency, and Jordan Rhodesfor the vice presidency.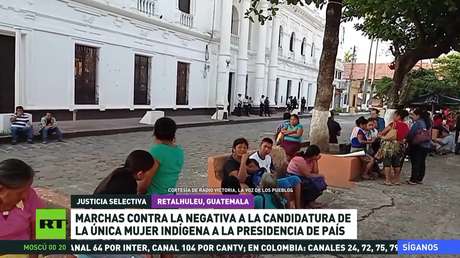 The court argued that Rodas does not have the settlement that guarantees that he has no pending complaints against him.
Cabrera is a mayan indigenous leader who ran for the presidency for the first time in 2019, placing fourth; while Rodas was Guatemala's Human Rights attorney, between 2017 and 2020. Both have been critical voices who question the administration of the current Guatemalan president, Alejandro Giammattei.
The MLP appeared on Monday before the Supreme Court of Justice (CSJ) to seek to reverse the TSE's decision.
Followers of Cabrera and Rodas demand the resignation of the electoral authorities and, in addition to denouncing fraud, they assure that applicants were accepted linked to corruption cases.
If you liked it, share it with your friends!


Source: RT