The corporation detailed that it complies with 81 search and arrest warrants.
The Brazilian Federal Police launched this Thursday a major operation against radical supporters of President Jair Bolsonaro and suspected of organizing anti-democratic acts after the victory of Luiz Inacio Lula da Silva in the October 30 elections.
In a note, the corporation detailed that it complies with 81 search and arrest warrants authorized by the magistrate of the Supreme Federal Court (SFT) and president of the Superior Electoral Court (TSE), Alexandre de Moraes.
The judge also ordered the blocking of social networks and bank accounts of some of the suspects.
The Federal Police complied, in this fifth fair (12/15), 81 search and arrest warrants, issued by the Federal Supreme Court, in a hurry that the Court is processing regarding two roadblocks after the proclamation of the results of the Gerais Electoral elections of 2022. pic.twitter.com/UsteUR7f3U

– Federal Police (@policiafederal) December 15, 2022
The operation is specifically related to the roadblocks that were carried out in various parts of Brazil just after the result of the elections.
Those days were also events in front of the barracks of the Army with slogans in favor of "military intervention" and a coup d'etat, arguing that there was fraud.
The orders are fulfilled in the states of Acre, Amazonas, Espirito Santo, Mato Grosso, Mato Grosso do Sul, Parana, Santa Catarina and in the Federal District.
Blocking of bank accounts
In November, the Brazilian Justice already ordered block bank accounts of 43 individuals and legal entities suspected of financing the Bolsonaro acts. The vast majority of the blocked bank accounts belonged to people or companies in the powerful agribusiness sector, one of the pillars of Bolsonaro's rise to power.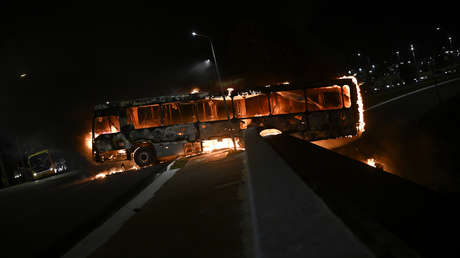 In addition, the general director of the Federal Highway Police (PRF), Silvinei Vasques, was also charged last month for irregularly exercising his position by trying to favor Bolsonaro with his actions.
Also, on Monday acts of vandalism by supporters of the president left three vehicles and five buses burned.
The violence was unleashed by the arrest of the indigenous Jose Acacio Tserere Xavante, a supporter of Bolsonaro. However, these acts occurred hours after Lula received the diploma that accredits him as president-elect.


Source: RT