The judge recommended that Patrick Crusius, who identifies as "a white nationalist," serve the sentences in a maximum security prison and receive psychiatric treatment.
Patrick Crusius, who shot dead 23 people and wounded 22 in a 2019 racist attack at a supermarket Walmart from the US city of El Paso (Texas), on the border with Mexico, was sentenced this Friday to 90 consecutive life sentences, reported the Department of Justice of the North American country.
Crusius, 24, still could face the death penalty for another case related to the shooting, in a Texas state court, that has not yet reached trial, reports CBS News.
The defendant pleaded guilty last February to almost 50 federal charges for hate crimes.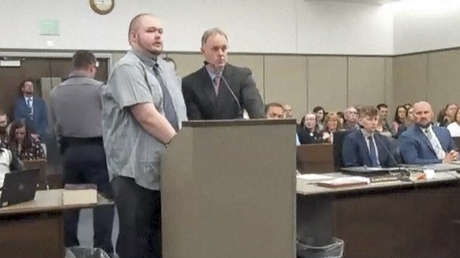 According to local media, Crusius, who identifies himself as "a white nationalist", did not show any reaction when the verdict was read. The judge recommended that the perpetrator of one of the deadliest shootings in US history serve his sentence in a maximum-security Colorado state prison and receive psychiatric treatment.
Shortly before opening fire in the supermarket with a assault rifle similar to an AK-47, the attacker published on the Internet a manifesto entitled: 'An inconvenient truth', in which he spoke of the alleged "Hispanic invasion of Texas" and his desire to kill Latin American immigrants in the US.
According to court documents, Crusius admitted to shooting people he believed to be of Hispanic origin and also confessed that he intended to kill them.
"A Chilling Scar"
"No one in this country should have to live in fear of hate-fuelled violence, of being targeted because of how they look or where they're from," Attorney General Merrick Garland said. "The 90 consecutive life sentences announced today guarantee that Patrick Crusius will spend the rest of his life in prison for his deadly and racist attack in El Paso," he added.
In addition to the victims, many witnesses to the attack suffered psychological trauma. "This defendant […] forever changed the lives of many others who witnessed this horrible event, leaving a chilling scar on the El Paso/Ciudad Juarez community [Mexico] and beyond," said First Assistant U.S. Attorney for the Western District of Texas, Margaret Leachman.
"While today's sentence cannot replace the lives lost or undo the damage caused to the survivors and those affected by this horrific event, it is our hope that this sentence […] put the full stop and bring peace those affected," he concluded.
Source: RT