The man's body was found without vital signs on the floor of the dungeon to which he had been taken after his arrest.
A severe beating would have been the cause of the death of Juan Pablo Gonzalez, allegedly responsible for the rape against the minor Hilary Castro, perpetrated in a mass transit station in Bogota, on October 31.
The National Institute of Legal Medicine and Forensic Sciences, according to information provided to Semana, would have determined that Gonzalez was beaten to death inside the Immediate Reaction Unit (URI), located in Puente Aranda, in the center of the Colombian capital, where he was taken after being arrested by the Prosecutor's Office and the Police, on November 5.
Gonzalez's body"was found without vital signs"one day after his arrest in a holding cell at the URI, according to a release issued on that occasion by the Bogota Metropolitan Police.
The body of the alleged aggressor was lying on the floor of the cell, where dozens of people were also found. The uniformed men removed the body from there and tried to revive it without success.
It is expected that the Prosecutor's Office will open an investigation to determine who would have been the murderer of Gonzalez and what will be the corresponding sanctions to the police officers who had the duty to protect the detainees.
The alleged rapist was charged by the crimes of violent carnal access and qualified aggravated robbery Castro, 17 years old.
Difficult to file a complaint
The case of the young woman has generated outrage in society, not only because of the sexual abuse she suffered at the La Castellana de Transmilenio station, but also because she was revictimized when trying to go to justice: the bureaucratic plot was so complex that it prevented her from formalize his complaint when he was ready to do so.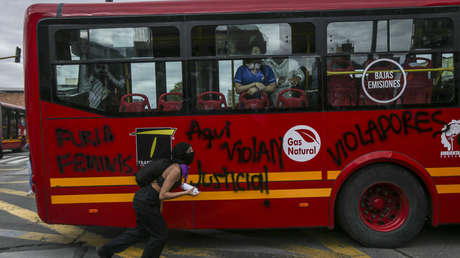 Because she did not receive a response from the institutions, the survivor went to the networks to expose what happened. Based on her testimony, groups of feminists organized protests that turned violent at the station where the abuse occurred, which was completely destroyed.
Subsequently, the Mayor's Office of Bogota took up her case and reported that it had provided the necessary support for the young woman to file her complaint with the Prosecutor's Office.


Source: RT