The US-led alliance was created to antagonize China, the Sri Lankan president said.
Sri Lankan President Ranil Wickremesinghe has called the AUKUS military pact (made up of Australia, the United Kingdom and the United States) a "mistake," while noting that it is an alliance designed to antagonize China.
"I think it is a strategic wrong step. I think they made a mistake. I don't think (the alliance) was necessary," the president declared this Monday in New York at an event on the sidelines of the United Nations General Assembly, quoted by local media. "It is a military alliance against a country: China," he added.
"It's hard for us to understand."
Wickremesinghe emphasized that Sri Lanka does not want to participate in the growing tensions between the US and Chinaadding that his country would like to maintain good relations with both powers and does not want to see Asia divided into competing blocs. "Why are we dragged into this? It's hard for us to understand"he said, highlighting that he had seen many geopolitical blocs change over the decades in his political career.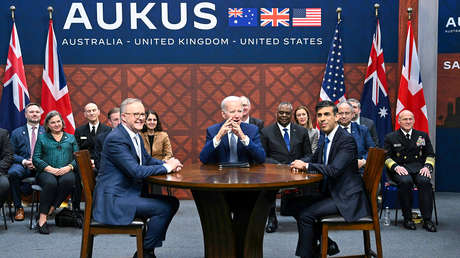 Regarding possible NATO expansion in Asia, he stated: "As far as the Indian Ocean is concerned, we do not want any military activity." Most countries in the region "won't want NATO around," he emphasized.
AUKUS was created in September 2021. Its Member States describe it as a security partnership involving the exchange of information and technology on nuclear-powered submarines, artificial intelligence, quantum technologies and additional underwater capabilities.
However, China has previously condemned the alliance, saying it will only help spread nuclear weapons around the planet and start an arms race in Asia.
Source: RT