The exercise was conducted concurrently with the annual Ulchi Freedom Shield exercises, which are run jointly with the US Army.
South Korea held a nationwide civil defense exercise on Wednesday for the first time in six years, Reuters reported. The drill is part of the responses to repeated missile launches from its neighbor, North Korea.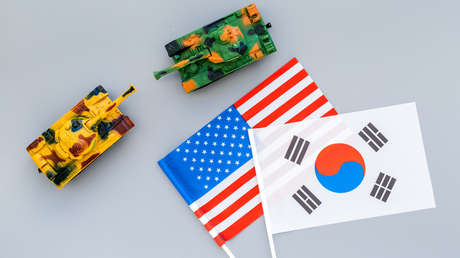 The maneuver began after noon, lasted 20 minutes and represented an emergency scenario, such as a possible North Korean air attack. About 52 million South Korean residents were summoned to practice their evacuation to shelters or underground spaces, however, several residents ignored the test and went about their usual activities.
"I didn't know about the drill. And people don't seem to care much. I don't think there is a real war either," Na Eun, a 52-year-old architectural designer, told Reuters.
The drills had not been held since 2017, amid the thaw in relations with North Korea and covid-19, the Yonhap news agency reported. A total of 57 regions designated as special disaster zones, due to last month's heavy rains and Typhoon Khanun, would be exempted from the drill.
The practice was held simultaneously with the annual Ulchi Freedom Shield exercises conducted in conjunction with the US Army to deter North Korean nuclear and missile threats, which will conclude on August 31. According to Reuters, Pyongyang told Japan on Tuesday that it would launch a satellite between August 24 and 31, its second attempt this year, prompting criticism from Tokyo and Seoul.
Last week, US President Joe Biden, along with his South Korean counterpart, Yoon Suk-yeol, and Japanese Prime Minister Fumio Kishida, held a meeting at the Camp David (USA) residence. . In a joint statement, the three leaders announced a commitment to strengthen "strategic coordination between the US-Japan and US-South Korea alliances" and said they would take their "trilateral security cooperation to new tops".
Source: RT