In the Russian province of Kherson, a state of emergency has been declared and local authorities describe the attack on the hydroelectric plant as an act of "environmental genocide".
Some 2,700 houses in 15 towns in the Russian province of Kherson were flooded after the Ukrainian army attacked the Kakhovka hydroelectric power station, reports the TASS agency, citing local emergency services.
The mayor of that town, Vladimir Leontiev, announced this Wednesday that at least seven people are missing as a result of massive flooding. Evacuation operations continue, as well as the food and water supply.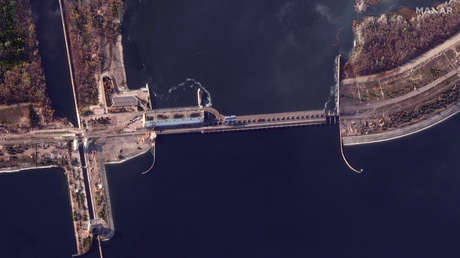 The local authorities have decreed the state of emergency in Kherson province. A similar measure was adopted the day before on the territory of the urban district of the city of Novaya Kajovka.
In affected populations lived at least 22,000 people, and of these, around 1,300 were evacuated. HE 40 temporary accommodation centers were set up with a total capacity for 5,500 people.
An "environmental genocide"
In addition, Leontiev reported that a town known as Korsunka, adjacent to Novaya Kakhovka, was completely under waterwhile in other towns the water reached the roof of the houses.
Ситуация в Олешках. Корсунка полностью под водой. Днепряны, Крынки, Казачьи Лагери затоплены по крыши. Ниже по течению, уровень возможно начнет спадать только во второй половине дня.Левый берег pic.twitter.com/vpoUxKhnJw

– Mar: A (@a_kava202224) June 7, 2023
In previously flooded areas of the city, the water level continues to drop and by the early hours of the morning it had dropped another 50 centimeters, the mayor said, noting that "this is a positive trend." This Tuesday, the water level in the urban area exceeded 11 meters in height.
On the other hand, Leontiev described the partial destruction of the hydroelectric plant as an act of "environmental genocide." "It will be caused and has already been caused a great damage to the environment", lament.
Meanwhile, images released by local authorities show that water is beginning to recede from some streets in Novaya Kajovka.


Source: RT