Last week, Tehran and Riyadh signed an agreement to resume their diplomatic relations, broken since 2016, and embassies in both countries are expected to reopen within two months.
The King of Saudi Arabia, Salman bin Abdulaziz al Saud, has invited the President of Iran, Ebrahim Raisi, to pay a state visit to Riyadh, reported the deputy chief of staff of the Iranian presidency for political affairs, Mohammad Jamshidi.
On March 10, Iran and Saudi Arabia signed an agreement to resume their diplomatic relationsbroken since 2016, and it is expected that in both countries the embassies will reopen within two months.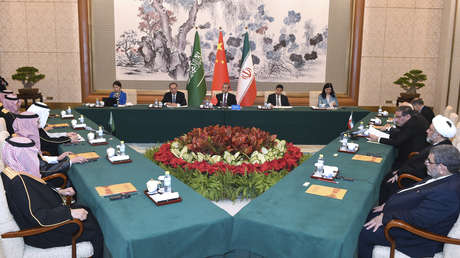 "In a letter to President Raisi, His Excellency Salman bin Abdulaziz, King of Saudi Arabia, welcomed the agreement between the two sister countries and invited him to Riyadh, as well as advocating for strong economic/regional cooperation. Raisi welcomed the invitation and stressed Iran's readiness to expand cooperation," wrote Jamshidi this Sunday on his Twitter account.
diplomatic meeting
On the other hand, this same day the Iranian Foreign Minister, Hossein Amir Abdollahian, announced that the two countries agreed to hold a meeting among its top diplomats. He added that three places had been suggested for the meeting, without specifying which ones.
The agreement between Tehran and Riyadh was reached with the mediation of China during trilateral talks held in Beijingwhere, since March 6, the secretary of the Iranian Supreme National Security Council, Ali Shamkhani, had held intense negotiations with his Saudi counterpart, Musaad bin Mohammed Al Aiban, to resolve the differences between the two nations.
In the joint statement issued by Iran, Saudi Arabia and China, the two Islamic countries stressed the respect for sovereignty and the non-interference in the internal affairs of the other party. In addition, they agreed to apply their cooperation agreement on security signed on April 17, 2001, as well as putting into practice the cooperation agreement economiccommercial, technical, scientific, cultural and sports signed on May 27, 1998.
Riyadh and Tehran, regional rivals for decades, saw their relations sour after the execution of prominent Shiite cleric Nimr al-Nimr in Saudi Arabia in January 2016. The same year, the Arab kingdom broke ties with Tehran after protesters attacked the Saudi embassy in the Iranian capital.
In the Yemen conflict, active since 2014, Iran has supported insurgents Houthiswho are fighting against the international coalition led by Saudi Arabia.
In 2019 Riyadh blamed the Islamic Republic for attacks on its oil facilities, which left half the country without supplies.


Source: RT