"The American elite has long lived in a world of luminous shades that only they know about," said Sergei Naryshkin.
The main problem from USA it is his detachment from reality, according to what the head of the Russian Foreign Intelligence Service, Sergei Naryshkin, said on Tuesday.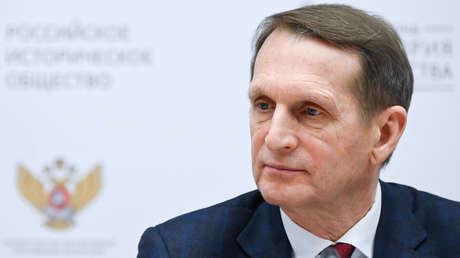 "Perhaps Washington's main problem is his growing detachment from reality. America's elite have long lived in a world of luminous tones that only she knowsin which the US continues to indiscriminately dominate the planet and has the exclusive right to monitor and punish," the official said during his speech at the 11th Moscow Conference on International Security.
In addition, Naryshkin emphasized that today the US tries to instill in other countries an ideology and values in which he himself no longer believes. According to the head of Russian foreign intelligence, "at this point, the level of unpredictability and nihilism is increasing, especially taking into account aggressiveness with which the West is destroying the fundamental norms of human morality, international law and religious truths".
Likewise, the official mentioned the scandals of corruption cases involving high-level US politicians, highlighting the trials against Hunter Biden, the son of the current US president. "They have been repeatedly investigated by the competent US authorities, but under pressure from the White House, investigations invariably end in nothing", he concluded.
Source: RT