The device develops a speed of up to 120 km/h, higher than other vehicles of this class, and has better characteristics compared to analogs in terms of maneuverability and low cost.
The Russian Arms Consortium Almaz-Antei is finishing developing a multifunctional light drone, the company's press service reported Thursday.
The statement specifies that it is a compact-sized vehicle with a unparalleled maneuverability, capable of reaching speeds of up to 120 km/h, higher than that of other production vehicles in this class. According to military analysts, the Russian Army experiences a great need for such vehicles in the context of the ongoing military operation in Ukraine.
The production of the pre-series of these devices has already been launched.
The device, which stands out for its great resistance Y under weightdue to the use of modern carbon fiber and polymer materials with fillers, has better performance compared to analog devices in terms of maneuverability and low cost.
The new drone has dimensions of 250 mm x 250 mm x 100 mm and its remote control reaches a maximum distance of 5 kilometers. At the same time, the drone can be used outside the coverage area of ​​the control channel if the flight path is programmed.
The maximum altitude of flight of the device is 3 kilometerswhile the autonomy of the drone reaches 20 kilometers.
The new drone can operate in conditions of strong wind Y a temperatures below zero.
Video display, UAV control and flight mission scheduling can be done from a mobile phonetablet or laptop.
In the near future, UAVs will be equipped with identification tools, an encrypted control channel and a closed video transmission channel. The video transmission and control channels, built on the basis of the company's own developments, "have increased noise immunity with software encryption," says Almaz-Antéi.
The Almaz-Antey press service reported that by the end of 2022 it will develop its own flight controller with friend-enemy identification function and its own software.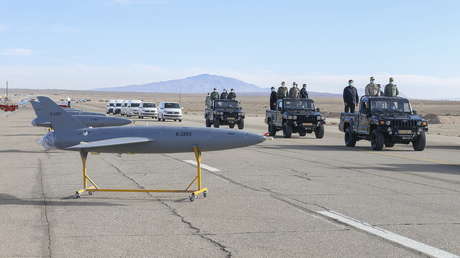 Mass production of these drones is expected to start in early 2023.
Civilian multicopters in combat
According to analysts, the Russian special operation in Ukraine has revealed the high effectiveness of compact drones.
"A drone allows observe enemy fortifications from abovesee the actual number of forces deployed by the enemy in defense of a facility, determine the location of armored vehicles, artillery, ammunition depots," explained military expert Yuri Knutov in an interview with RT.
Likewise, the analyst assures that civil multicopters are often used in today's military conflicts, one of their advantages being their low price.
"Civilian drones are relatively inexpensive, which is an important factor, as these drones tend to fail very quickly and don't last as long," he says.
Source: RT