Russia intends to more strictly control the movement of Japanese fish.
The Russian Federal Service for Supervision of Consumer Protection and Welfare (Rospotrebnadzor) announced this Friday that it will strengthen the sanitary control of the fish, shellfish and derived products from Japan to prevent the entry of food "with a high content of radionuclides".
The measure responds to the Asian country's plans to dump wastewater from the Fukushima nuclear power plant into the ocean, which was used in the catastrophe that occurred there to cool the reactors. Given the fears that the spillage of radioactive water could cause sea contamination, the Russian regulator issued special control measures for this situation.
"Currently, the shipment of food products from Japan to the Russian Federation is allowed, as long as a declaration issued by an authorized competent authority of Japan is submitted, confirming that the content of radioactive substances in the products is below of the norms established by current legislation, and a statement is attached to the certificate with the results of the radioactive cesium content", the agency specified.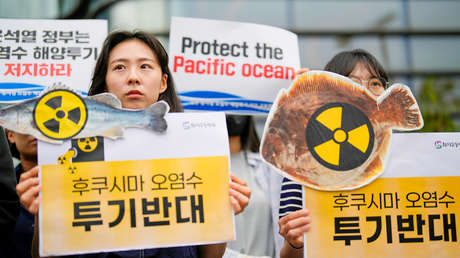 In addition to reinforcing sanitary control, Russia also intends to more rigorously control the circulation of Japanese fish.
The Japanese sewage dumping plan has drawn strong protests from local fishing communities, as well as neighboring countries, including China and some of the Pacific island nations, who question its legitimacy. China has already banned food imports from 10 Japanese regions to ensure the safety of their consumers.
Tests conducted at the end of May on fish swimming in the Fukushima port area showed that the level of cesium-137 exceeds 180 times the allowed limit in Japan.
Source: RT