It is designed to carry up to 700 kilograms of payload.
Rocket Lab's new Electron rocket lifted off Saturday from NASA's Wallops Flight Facility in Virginia for the purpose of performing a suborbital test flight "for a confidential client."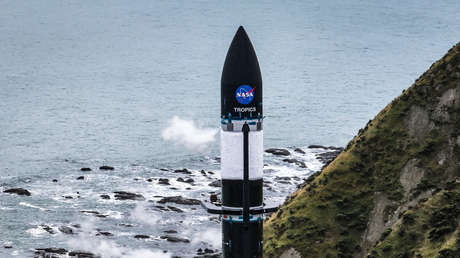 The American aerospace company explained this Sunday that it was the first launch of the rocket Hypersonic Accelerator Suborbital Test Electron (HASTE).
HASTE is based on Rocket Lab's original Electron, though it features a modified booster stage, which allows it to deploy suborbital payloads from low and high hypersonic speeds, as well as orbital reentry.
Furthermore, it is designed to transport 700 kilograms of payload, compared to the 300 that the Electron can carry to low-Earth orbit. The company did not provide further details of the rocket or the launch.
"The success of this mission demonstrates the collaboration between government and industry partners to change the paradigm in hypersonic testing," said Rocket Lab Senior Director of Global Launch Services Brian Rogers. He also stressed that the new launch vehicle will enable "the frequent and affordable flight tests necessary to advance the development of hypersonic technology" in the US.
HASTE will be operated primarily by Rocket Lab National Security, a wholly owned subsidiary of Rocket Lab, which is dedicated to launching missions for US Defense and intelligence agencies, as well as their allies.
Mission success for the launch of our new suborbital launch vehicle! HASTE took to the skies from Rocket Lab LC-2 in Virginia for a suborbital mission at 21:24pm Eastern. Congratulations to our mission partners, and welcome to a new era of hypersonic test launch capability! pic.twitter.com/nz3V4hCNoT

— Rocket Lab (@RocketLab) June 18, 2023


Source: RT