At the moment, Beijing has not decreed a complete lockdown throughout the country.
Daily covid-19 infections in China have surpassed for the first time this week the 30,000 casesas authorities struggle to contain outbreaks, resulting in a growing number of restrictions in the country's major cities.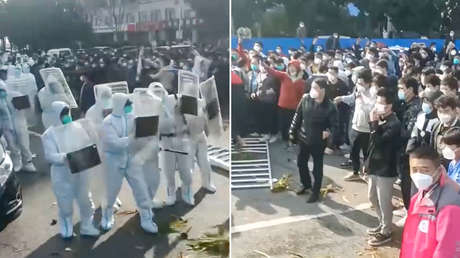 This Thursday, a total of 32,943 new cases of the coronavirus were registered in the Asian country, according to data from the Chinese National Health Commission. In addition, last Sunday the Chinese health authorities confirmed the first death from covid-19 in the nation in almost six months. This is an 87-year-old man living in Beijing.
For now, Beijing has not announced a complete lockdown across the country. On the contrary, certain restrictions are being eased. Specifically, Disney Shanghai, which suspended its activities at the end of October to combat covid-19, reopened its doors this Friday, reports CGTN.
However, lockdowns, mass testing and restrictions have been imposed in the capital and in cities such as guangzhou Y tianjin.
Likewise, the authorities have tightened the confinement in several neighborhoods of the city of Zhengzhouin Henan province, after protests broke out at the Foxconn Technology Group plant, Apple's largest iPhone production factory in China.
The measures, which will be extended for five days starting at midnight on Friday and which affect more than 6 million people —approximately half of the city's population— include the establishment of mobility controls in the main urban areas. According to the directive, people who live in high-risk areas should stay at home, while the rest are advised to go out only in case of need.
A fifth of Chinese GDP under lockdown
Beijing has maintained a strict 'zero covid' policy, consisting of isolation of the infectedin the activation of massive PCR test campaigns and in the implementation of movement restrictions to contain the spread of the virus.
However, these severe restrictions are putting pressure on the Asian nation's economy. Nomura analysts have estimated that more than a fifth of China's GDP is under lockdown, a larger proportion than the British economy. "Shanghai-style full lockdowns could be avoided, but could be replaced by more frequent partial lockdowns in an increasing number of cities due to rising numbers of Covid-19 cases," they wrote, quoted by Reuters.
Source: RT