At the same time, the head of the Kremlin stressed that the Russian troops are fighting "heroically" against the enemy.
Russian President Vladimir Putin said this Sunday in an interview with journalist Pavel Zarubin that the counteroffensive launched by the Ukrainian Armed Forces is not yielding favorable results for kyiv.
In his remarks, the president praised the Russian Army, which, according to his words, is advancing successfully on the battlefield. "Our troops are behaving heroically. Unexpectedly for the enemy, in some areas they themselves go on the offensive, taking the most advantageous positions," he explained.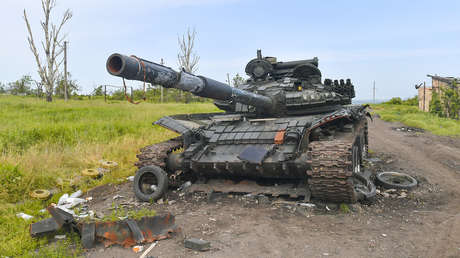 "All the enemy's attempts to break through our defenses, and this is a task that includes the use of strategic reserves, have failed during the counteroffensive. Our enemy is unsuccessful," Putin said.
Already at the end of June, the Russian president pointed out that among the weapons of the Ukrainian Armed Forces that have been destroyed are many foreign vehicles that are burning "beautifully".
"Of course, there are the Leopards, French wheeled armored vehicles, American armored vehicles. There is everything. They are burning like hell," the president ironized, answering a journalist's question about the situation at the front.
Russian soldiers thank Zelenski for an armored BradleyMilitary of the FF. AA. of Russia recorded a video thanking Ukrainian President Vladimir Zelensky after seizing a Bradley armored personnel carrier at the front. pic.twitter.com/1ioVlUURrW

— Know More (@Sepa_mass) July 12, 2023


Source: RT