People who have left rural areas in the south and east of the country have encountered signs of racism and discrimination.
The incitement to murder a peasant woman protester was recorded in a video that went viral in Peru in the context of the protests, which moved from the south and east of the country to the Peruvian capital to demand the departure of President Dina Boluarte and the advance of the general elections.
In the record you can see a woman with a hat and skirt –traditional clothing of the ancestral communities that inhabit the Andean region– while protesting in front of a police cordon that protects a demonstration.
"I don't have my study, but I realize. People who have their study, people who have started at universities, tell me…", the woman says. However, her words are interrupted by a man, who passes by another in front of the shields of the riot police officers .
"Put a bullet in it, dude," he exclaims between laughs as he walks with a can in his hand.
This video is outrageous. Two people are seen passing by the police and one of them tells them: "Shove a bullet, dude", referring to the lady who is protesting and they leave laughing. Also note that in the background a policeman is laughing. He is missing humanity… pic.twitter.com/5XezprsRmh

— Alex February (@AlexFebrero_) January 31, 2023
Faced with this incitement to the violation of human rights, the protester responded: "You scoundrel, you eat from the mountains, you swallow from the mountains and you enjoy yourself. What a shame!".
In the mountains, where a good part of the peasant indigenous communities are located, the cultivation of essential items for the diet of Peruvians is carried out, among which are corn, rice, potatoes, coffee and fruits.
Apologies
After the rejection comments, Luis Lazo, one of the men who were captured in the video, public in his TikTok account his apologies for the comment "out of place, that was irrelevant".
"I am embarrassed by the meaningless comment I made yesterday, I support your right to protest, I respect everyone's right to life," he said after his offensive words went viral.
Lazo tried to justify his conduct by claiming that he was "under the influence of alcohol" and called for the threats against his family to stop. "Let this stay here," he asked.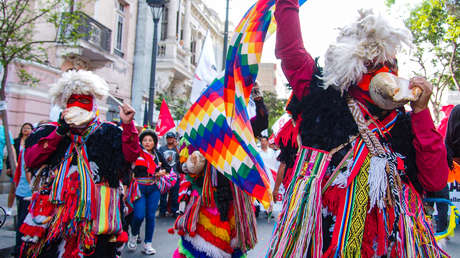 The words for which Lazo apologizes occur in the midst of a context of intensified political and social crisis after the dismissal of Pedro Castillo, by Congress, last December.
The departure of the president generated demonstrations by the most vulnerable sectors of the population who, according to complaints from human rights defense organizations, have been the main victims of the excessive use of force by the Police guarding the demonstrations.
So far, unofficial counts speak of more than 60 deaths in the protests, while the registry of the Ombudsman's Office shows 58 victims.


Source: RT