This week, the former president has given details about the transfer he made in December 2022 to the Mexican embassy in Lima.
The former president of Peru, Pedro Castillo, this Tuesday again rejected the charges against him in his country, where he faces a double preventive detention for a series of crimes allegedly committed during his short administration.
"I have never led nor have I been part of a criminal network. The current criminal network today is in the Congress of the Republic, where the 'mochasueldos' are and it is in the current Government Palace, where the 'mochavidas' are," Castillo stated.
Former President Pedro Castillo says that he has never led a criminal network, but that it is in Congress and in the Palace: "I never used power to influence the appointment of people in exchange for perks." pic.twitter.com/TjAn6NEXjk

— Sofia Lopez (@SofiaLopezLl) September 19, 2023
During an exception hearing on the inadmissibility of action requested by Castillo's defense, the former president assured that he "never" used the in-person investiture to "influence the appointment of people in exchange for a perk."
Castle meets 36 months of preventive detention for being the alleged leader of a criminal organization and another 18 months of preventive detention for alleged rebellion and conspiracy after his attempt to dissolve Parliament in December 2018.
"Prove it with facts. Where is the money I received? What time did I meet? How did I name the people?" Enough of so many lies towards the countryall these things have to be demonstrated in practice," he demanded.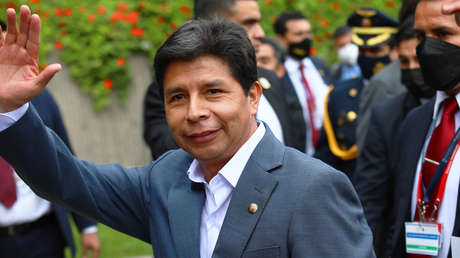 "The president speaks"
The day before, the former president (2021-2022) also spoke at a rights protection hearing held before the Supreme Preparatory Investigation Court.
"Whoever speaks is the president of the Republic"Castillo stated at the beginning of his three-minute speech, in which he provided details about what happened on December 7, when he dictated a controversial message to the nation to dissolve Congress, among other measures.
He noted that that day he took his family to the Mexican embassy "to go and return," but the official vehicles were stopped by armed men. "This was all part of a plot"he denounced.
"Isn't that a kidnapping?" Castillo asked Judge Juan Carlos Checkley Soria. "As a result of that, all these things are generated," he added.
I never tried to flee the country. On December 7, I went to the Mexican embassy to protect my family and later return to the Government Palace to address the country's problems. In the middle of the route, I was kidnapped by this usurping government. pic.twitter.com/RsQ1AYvHyx

— Pedro Castillo Terrones (@PedroCastilloTe) September 19, 2023
Likewise, he declared that "I was not fleeing" Peru. "There was no type of flagrancy, I was going to leave my family at the Mexican embassy because the harassment was very great," she stressed.


Source: RT