The senior official urged the population to "trust their Police and the Armed Forces," despite the dozens of people killed during the demonstrations.
The president of the Council of Ministers of Peru, Alberto Otarola, asserted this Friday that the third 'Taking of Lima', scheduled for July 19, is promoted by "radical sectors of the left."
In statements to the press broadcast by the state channel TVPeru Noticias, Otarola maintained that the troops will "take care of the security and life of the population."
"These SUBVERSIVES who are in the VRAEM who have murdered thousands of Peruvians and who are being defeated in the burrows in which they are, They are not going to defeat democracy" , Alberto Otarola pic.twitter.com/QMMTL4LNW8

– Peru News 🇵🇪 (@PerNoticia57593) July 7, 2023
"About the day of protest that some radical sectors of the left are promoting in the city of Lima, simply tell them that this protest is going to be covered by the Police," said Otarola from the department of Lambayeque.
In this sense, he asked the population to "Trust your Police, the Armed Forces and trust that Peru is thinking about development, peace and tranquility".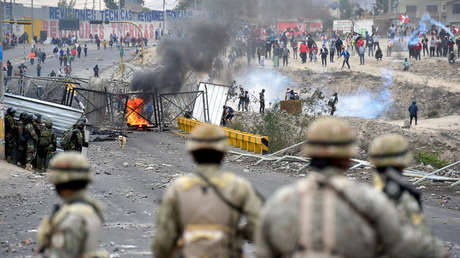 Human rights violations
During the massive mobilizations carried out between December 2022 and February 2023, in rejection of President Dina Boluarte and the Congress of the Republic, at least 67 people lost their lives, of which 49 died in clashes with law enforcement.
Local journalistic investigations and international human rights organizations documented the excessive use of force by the authorities, as well as "extrajudicial or arbitrary executionsagainst protesters.
With the third 'Take of Lima', thousands of people, mostly from the provinces, will insist on their demand: Boluarte's resignation and advancement of general elections.


Source: RT