The criminal gang contacted its victims through false profiles on the networks and deceived them by promising them "big profits".
The Federal Police of Brazil launched this Monday an operation against various suspects of being part of a criminal organization that recruited women and minors to prostitute them in the illegal mines, established in the Yanomami Indigenous Land.
In a statement, the corporation explained that four search and arrest warrants are being carried out, and another four of preventive detention.
"The Police managed to identify several people suspected of being involved in the logistics and operation of a scheme to send women and adolescents to mining areas to be sexually exploited, even deceiving them," the text indicates.
PF fulfills errands against suspicions of involvement with the sexual exploration of minors in garimpos of Roraima. Group would be responsible for the crimes committed against a 15-year-old boy rescued at the last terca-feira at Operacão Libertacão. pic.twitter.com/ALq7cM5sez

– Federal Police (@policiafederal) March 18, 2023
Through false profiles on social networks, this criminal group contacted women and "offered them the possibility of work in the mines in the most varied areas (including prostitution) with the promise of unrealistic gains".
"Extreme precariousness"
After being convinced, a driver took them to a clandestine landing strip, from where they were sent to the mining areas.
"Once there, in extremely precarious conditions, the victims were informed and charged for transportation costs, which were around 10,000 reais (about $1,900), and an initial debt was generated from that moment on. with the leaders of the criminal group," added the Police.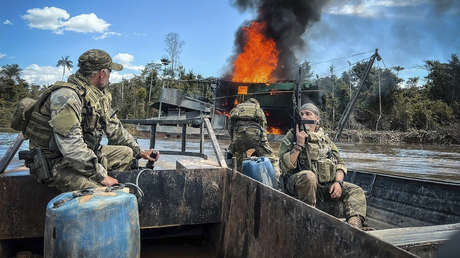 In an attempt to settle their debts – they also had to pay for food and housing – "the victims they performed up to 15 services per nightin addition to being threatened if they did not want to prostitute themselves".
The investigations began after a 15-year-old teenager was rescued last week in the Mucajai River, which covers the Yanomami Indigenous Land, the largest reserve in the country and distributed between the states of Amazonas and Roraima.
The government of Luiz Inacio Lula da Silva declared a state of emergency on January 20 in the face of the health and security crisis suffered by the Yanomami indigenous people due to illegal mining, and launched a mega-operation to expel gold seekers.
According to the Federal Police, in the first 30 days of the operation, dismantled 200 clandestine camps In the reservation.


Source: RT