The Minister of Defense justified the entry of foreign troops into Peruvian soil. "They have occurred year after year, without exception."
The Government of Peru praised this Tuesday the link between its Armed Forces with other Armies in the world and, particularly, with the US Southern Command.
In the middle of a press conference, referring to the anti-government protests scheduled for this Wednesday, Defense Minister Jorge Chavez described the demands of some protesters as a "false narrative".
The senior official pointed out that the expulsion of foreign troops from Peruvian territory is an "axis of the march" on July 19, in which thousands of people are expected to demand the resignation of President Dina Boluarte so that there are new elections.
"These income (of foreign troops) approved by the Congress of the Republic and regulated by the Constitution, have been produced year by year, during all governmentswithout exception," he said.
In this 2023, Parliament authorized the entry of several foreign soldiers to carry out all kinds of maneuvers in coordination with their Peruvian counterparts.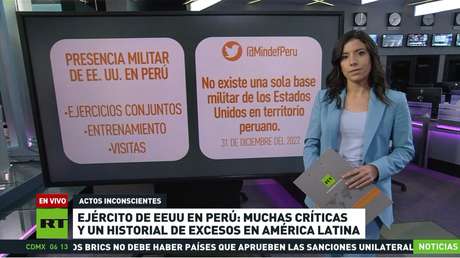 The role of the Southern Command
From the Government Palace in Lima, the minister referred to "the cooperation of other countries, such as the United States Southern Command, [que] transcends from the military to the social".
As proof, he mentioned the construction in the last eight years of 20 regional emergency operations centers, the delivery of four field hospitals and three teams to restore the communications system where an emergency occurs.
Regarding the Resolute Sentinel 2023 International Military Exercise, which is about to end and in which US special forces participated, he maintained that it was very valuable for Peruvian troops.
"They have served train our personnel not only in military actions against crimes such as terrorism and drug trafficking, but also in simulations of response to the displacement of humanitarian aid goods and assistance in the event of disasters that may occur due to natural phenomena," he said.
Source: RT