On Tuesday the representatives of those countries were summoned in Lima.
The ambassadors of Peru in Argentina, Bolivia, Colombia and Argentina will be called for consultations, the Peruvian Minister of Foreign Affairs, Ana Cecilia Gervasi, reported on Thursday.
The chancellor indicated that the decision was made together with the president, Dina Boluarte, "in reaction to the meddling in the internal affairs of Peru by the highest authorities of the aforementioned countries".
According to the minister, the declarations of these authorities "question" the presidential succession of Boluarte, who became president after the dismissal of Pedro Castillo; and, furthermore, his words "are not consistent with the traditional ties of friendship, cooperation and mutual respect" that unite these Latin American countries.
Foreign Minister Ana Cecilia Gervasi: "With the President of the Republic, we have arranged the call in consultation to Lima to our Ambassadors in Argentina, Bolivia, Colombia and Mexico, in reaction to the interference in the internal affairs of Peru." pic.twitter.com/gIgDrhyCfU

– Chancellery Peru 🇵🇪 (@CancilleriaPeru) December 15, 2022
Previously, on Tuesday, Gervasi summoned the representatives of Argentina, Bolivia, Colombia and Mexico in Lima, to whom he expressed that Boluarte's presidential succession "is constitutional."
Likewise, he delivered formal notes addressed to the foreign ministers of those countries in which "the Government of Peru conveys its firm reaction to the joint statement issued by their governments."
The notice
The statement to which Gervasi refers, and which has generated this whole situation, is a joint text that was published on Monday, in which these four countries expressed their "deep concern" over the events that resulted in Castillo's removal and detention. and they urged those who make up Peruvian institutions to "refrain from reversing the popular will expressed through free suffrage."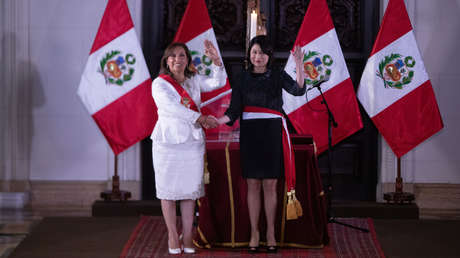 In the text they add that "it is not news to the world that President Castillo Terrones, from the day of his election, was the victim of undemocratic harassment"; and they asked the Peruvian authorities to "fully respect the human rights" of the deposed president and guarantee him "judicial protection."
Castillo was ousted last week by Peru's Congress after his failed attempt to dissolve Parliament and establish an emergency government. After that he was arrested and accused of rebellion.
This has generated protests in various regions of Peru that, in addition to calling for the release of Castillo, demand the closure of Congress, early elections for 2023 and the resignation of Boluarte. To date there is a balance of nine people dead in the midst of the demonstrations.


Source: RT