Alejandro Kim is a candidate for legislator for the city of Buenos Aires.
At 45 years old, the businessman Alejandro Kim decided to launch himself into politics and, in a few weeks and thanks to the TikTok platform, he has become one of the emerging figures in the campaigns for the general elections on October 22.
Kim is a pre-candidate for legislator in the city of Buenos Aires by the party Principles and Valuesfounded by his friend Guillermo Moreno, a well-known Peronist leader who was a member of the cabinet of former President Cristina Fernandez de Kirchner.
His name began to become known thanks to the videos he posts on TikTok and in which he reiterates his love for Argentina, mate and choripan, his fight against xenophobia and discrimination, but also boasts its biculturality and charisma that would be the envy of any professional politician.
The time has come for the #MIGRANTS in the city of BUENOS AIRES. The city that received my family and so many others, today is adrift. We can change things without anyone speaking for us. I am Alejandro Kim, pre-candidate for legislator, and I choose to be. You add up? pic.twitter.com/FpFaetz4nQ

—Alejandro Kim (@alekim_ok) July 7, 2023
Kim knows what he is talking about, since the main factor that has drawn attention is that his father and mother were born in South Korea, but in 1976 they arrived in Argentina to try their luck in this country.
The following year Kim was born, who studied law, joined the textile company founded by the family, created his own law firm and later became vice president of the Chamber of Korean Entrepreneurs in Argentina.
Today he is trying to occupy a seat in the Legislature, so his first challenge will be to win the candidacy in the Primary, Open, Simultaneous and Mandatory elections (PASO) that will be held on August 20.
Alejandro Kim, is breaking it. Her poses are impressive. Claiming immigration and the gratitude of the immigrant to Argentina. I can't be more identified. He is the first CABA legislator for Principles and Values. pic.twitter.com/XPeMcEDaz7

— Carlos Maslaton (@CarlosMaslaton) July 15, 2023
If he succeeds, then yes he will become the first Argentine of Korean descent to represent Peronism on the ballot.
Platform
One of Kim's main messages is in favor of migrants who from time to time suffer from negative campaigns in which they are blamed for crime and for "taking advantage" of free health and education in Argentina.
Before running, Kim was already known among the communities, because in addition to working with Korean businessmen, he had legally represented immigrants of other nationalities.
CHORIKIMCHIPAN🇦🇷🤝🇰🇷Yes the #choripan He was already rich. They don't know what's left with #KIMCHI! It adds an exquisite flavor and texture! The best of our gastronomic culture between two loaves. 🎉🙌Would you try it? How do you prepare it? I read them. 👇 pic.twitter.com/TthHWi48TO

—Alejandro Kim (@alekim_ok) July 12, 2023
In fact, one of the main collaborators of his campaign is Gustavo Moron, one of the leaders of the Bolivian community living in Buenos Aires.
Beyond Kim's militancy and social commitments, a TikTok video was the one that put him in the spotlight, as he challenged local palates by offering the 'chorikimchipan'a sandwich that combines two of the most popular foods in Argentina (choripan) and kimchi (South Korea).
Then he began to add followers and to be summoned by the press.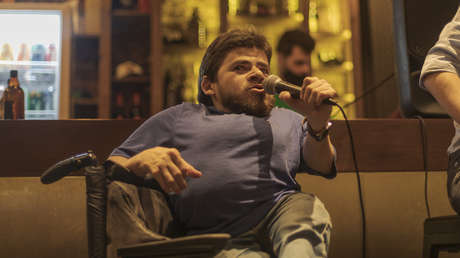 "All foreigners are Peronists without realizing it"said in a radio interview that had a high impact due to the love and hatred that the Justicialista Party, founded by the late former president Juan Domingo Peron, has historically aroused.
The candidate also reveals himself to the polarization that has prevailed for more than a decade in Argentina.
"In the electoral offer, they are all spaces of hate," he criticized the offer respect and tolerance in returnelements that do not usually predominate in times of campaign.
If you liked it, share it with your friends!


Source: RT