In addition, Lloyd Austin described Beijing's rejection of a possible meeting with its Chinese counterpart as "regrettable".
Recent "provocative interceptions" of US and allied aircraft by China are "very worrying," US Defense Secretary Lloyd Austin said Thursday during a meeting with his Japanese counterpart, Yasukazu. Hamada, commenting on the interception of a US RC-135 reconnaissance plane by a Chinese fighter, which took place last week over the South China Sea.
"We would expect them to alter their actions, but since they haven't done so yet, I am concerned that at some point there will be an incident that can get out of control very quickly," the Pentagon chief was quoted as saying by AFP.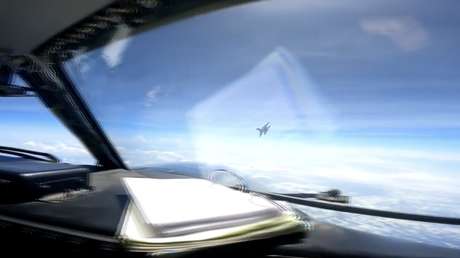 In addition, Austin described as "regrettable" Beijing's rejection of a possible meeting of the US and Chinese defense ministers in the framework of a meeting of senior military officials in Singapore, which will take place this week. "You have heard me speak several times about the importance of countries with large and considerable capacities being able to talk to each other in such a way that the crisis can be managed and things prevent things from spiraling out of control unnecessarily," he said.
Meanwhile, Austin announced that he is open to talks with his Chinese counterpart, Li Shangfu. "I think Defense Departments have to talk to each other on a routine basis, or they have to have open channels of communication," he said.
Earlier last month, the Financial Times reported that Beijing considers it "unlikely" that its defense minister will meet the Pentagon chief in Singapore in June.
The Chinese side has made it clear that the meeting is hampered by US sanctions imposed on Li Shangfu back in 2018, due to the alleged approval of the purchase of Russian fighter jets and air defense systems. At that time, Li Shangfu was the head of the Equipment Development Department of the Chinese Central Military Commission. He assumed the Defense portfolio in March 2023.
Meanwhile, the spokeswoman for the Chinese Foreign Ministry, Mao Ning, said Tuesday that Washington's policy is the cause of the lack of dialogue between the Chinese and US military.
Source: RT