The Speaker of the US House of Representatives had to admit that Pelosi Jr. was her "companion" instead of her husband.
Nancy Pelosi's son, who unofficially accompanied his mother on the US House Speaker's trip to Taiwan last week, turned out to be one of the main investors in a Chinese company with a market value of about $22 million, the Daily Mail reported Thursday, citing Securities and Exchange Commission filings.
Paul Pelosi Jr., 53, has not only invested in the telecommunications company Borqs Technologies, but also served on the board or served as a consultant. In exchange for his services, Pelosi's son received 700,000 shares of the company, thus becoming its fifth largest shareholder.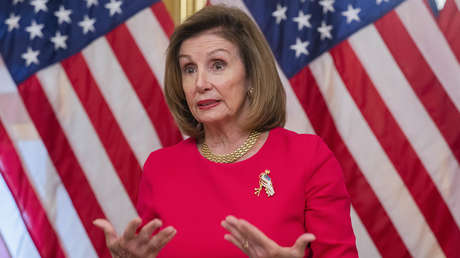 "These are shares that were purchased by our officers, directors and affiliates, or that were purchased by our employees or consultants, under an employee benefit plan. Said officers, directors, affiliates, employees and consultants are the selling shareholders identified in the reoffering prospectus," the document cited by the newspaper said.
However, when other members of the company sold their shares in June 2021, Paul Pelosi Jr. became the second largest investor of the company, ranking only behind the firm's CEO, Pat Sek Yuen Chan. At that time, Pelosi Jr. made a sale of shares, keeping 400,000, while another 1,108,569 shares were in Chan's possession.
The most recent data revealed that in march this year the son of the speaker of the US House of Representatives was still a shareholder in the company and owned about 147,000 shares, or about 0.07% of the outstanding shares, according to the New York Post. Nevertheless, in May 2022 Pelosi Jr.'s name was no longer on the list of the top 10 shareholders, a fact that suggests her position has slipped since last year.
Your trip to Taiwan
The Daily Mail report on Paul Pelosi Jr.'s role in a Chinese company emerged after he visited Taiwan with his mother despite not appear as an official member of the delegation. The Speaker of the House of Representatives had to admit that Pelosi Jr. was her "companion" instead of her husband when asked by journalists about it. However, her son also posed for photos alongside the island's leader, Tsai Ing-wen, and other top Taiwanese officials during the controversial visit.
The outlet points out that Pelosi's son's ties to a Chinese company could put his mother in an uncomfortable situation after her proclamation that Washington will not abandon its commitment to Taipei and after the strong rejection of Beijing to the trip. The Chinese Foreign Ministry even announced that it will impose sanctions against the speaker of the US House of Representatives in retaliation. The agency justified the restrictions, which will also affect immediate members of the American political familybecause Pelosi ignored Beijing's "grave concern and strong opposition" to her trip.
Source: RT