The president of the US House of Representatives arrived on the Asian island on Tuesday night.
Nancy Pelosi, president of the US House of Representatives, has affirmed that Washington will not abandon its commitment to Taiwan, as she declared during a ceremony held on Wednesday at the Presidential Palace in Taipei.

"We will not abandon our commitment to Taiwan and we are proud of our longstanding friendship," Pelosi said at a ceremony alongside the island's leader, Tsai Ing-wen. "Now more than ever, American solidarity with Taiwan is crucial. This is the message we bring here today," he added.
For her part, Tsai noted that Pelosi's visit demonstrates strong international support for Taipei in the face of a years-long pressure campaign spearheaded by Beijing. "Facing deliberately escalated military threats, Taiwan will not back down," he stressed.
"We congratulate Taiwan"
Hours earlier, Pelosi visited the Legislative Yuan (Parliament of the island), where she delivered a speech together with the vice president of Congress, Tsai Chi-chang. "We congratulate Taiwan for being one of the freest societies in the world," declared the US policy, calling for greater inter-parliamentary cooperation.
Likewise, Pelosi pointed out that her country's new legislation aimed at strengthening the US chip industry to compete with China "offers a greater opportunity for economic cooperationbetween Washington and Taipei.
During his speech, he also stated that his delegation came to Taiwan out of friendship and in a spirit of "peace for the region," referring to China's reaction, which has described Pelosi's visit as a "great political provocation."
China reacts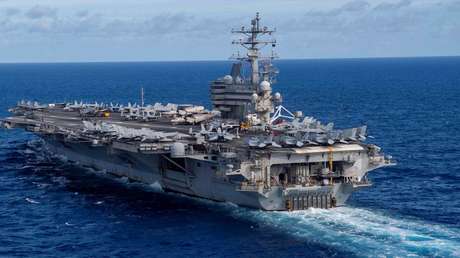 In fact, the Chinese Foreign Minister, Wang Yi, has assured that the US policy towards Taiwan, aimed at destabilizing regional peace to contain Beijing, is doomed to failure, for which he urged Washington to stop of "playing the Taiwan card" in Asia-Pacific.
"Taiwan is part of China. The complete reunification of china it is the trend of the times and an inevitability of history. We will leave no room for Taiwanese 'independence' forces and outside interference," he said.
On the other hand, it is expected that number three in the hierarchy of the North American country —only behind the head of state, Joe Biden, and Vice President Kamala Harris— will meet this day with Mark Liu, president of Taiwan Semiconductor Manufacturing Company ( TSMC), Taiwan's largest semiconductor maker, is currently building a chip plant in Arizona, USA.
Did you find it interesting? Leave your opinion in the comments!
Source: RT