The former foreign minister demanded that the Morena leadership end the alleged support they are giving to the former head of government of Mexico City.
The former foreign minister of Mexico, Marcelo Ebrard, denounced this Wednesday unfair competition by the former head of the Government of Mexico City, Claudia Sheinbaum, in the race for the presidential candidacy of the ruling party Movimiento Regeneracion Nacional (Morena), facing the elections of 2024.
In a press conference with supporters, Ebrard said that they are using public resources from the Government of Mexico City and officials to convince people to vote for her.
"We have never seen as much carry as the one we are experiencing right now. We have not seen so much pay for false surveys," he said.
"They are massively using the Welfare Secretariat throughout the country, they are using the brigades to tell the people that the president (Andres Manuel Lopez Obrador) wants Claudia (the candidate) to be," Ebrard said.
Between "government brigades" and "monumental haulings", this is how Ebrard DENOUNCES the use of public resources by Sheinbaum to promote his candidacy.Tssssssssssssss pic.twitter.com/dpASRml6bN

—Risco (@jrisco) August 16, 2023
Meanwhile, the former Foreign Secretary denounced the placement of spectacular advertising in favor of his opponent, Sheinbaum, which allegedly would have been paid for with resources from the capital's government.
In this context, Ebrard sued the Morena leadership to end the alleged support they are giving to Sheinbaum.
"I have spent months and weeks with all patience, with all responsibility, waiting for them to correct. But in the final phase, despite everything I have just told you, with the support of the public we are winning this survey. What you I ask (to Morena) is that allow people to freely decide", he stated.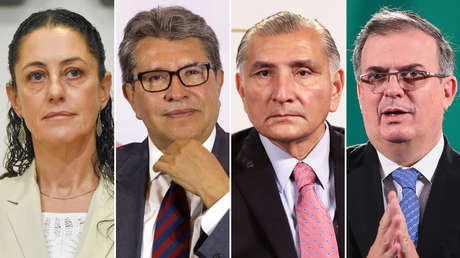 surveys
The former minister questioned the polls that give Sheinbaum an advantage. This Wednesday, the newspaper El Financiero published a poll in which it reveals an advantage of 10 points for the former head of the Government of Mexico City over Ebrard.
"If it were true that they have an advantage of 10, 20 points, 15 or 5, whatever, we would not be seeing what we are seeing. I have to say it with a position of firmness and temperance," Ebrard emphasized at the press conference.
On Thursday, August 17, Morena will hold the draw for the polling houses that will carry out polls at the national level to define the virtual candidate for the presidency. The winner will be announced on September 6.
In addition to Ebrard and Sheinbaum, the presidential candidacy for the ruling party is being disputed by Adan Augusto Lopez, Gerardo Fernandez Norona, Ricardo Monreal and Manuel Velasco.


Source: RT